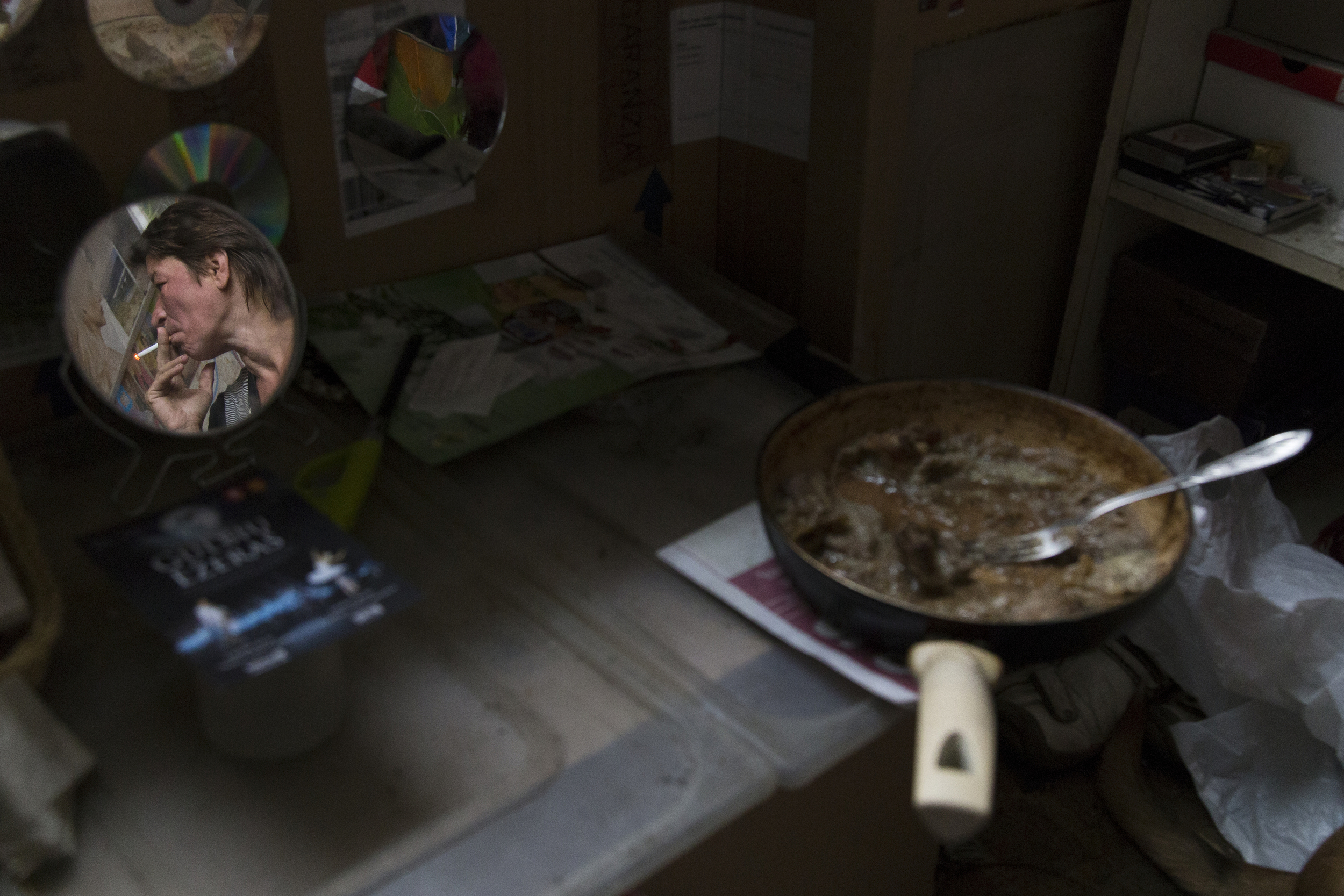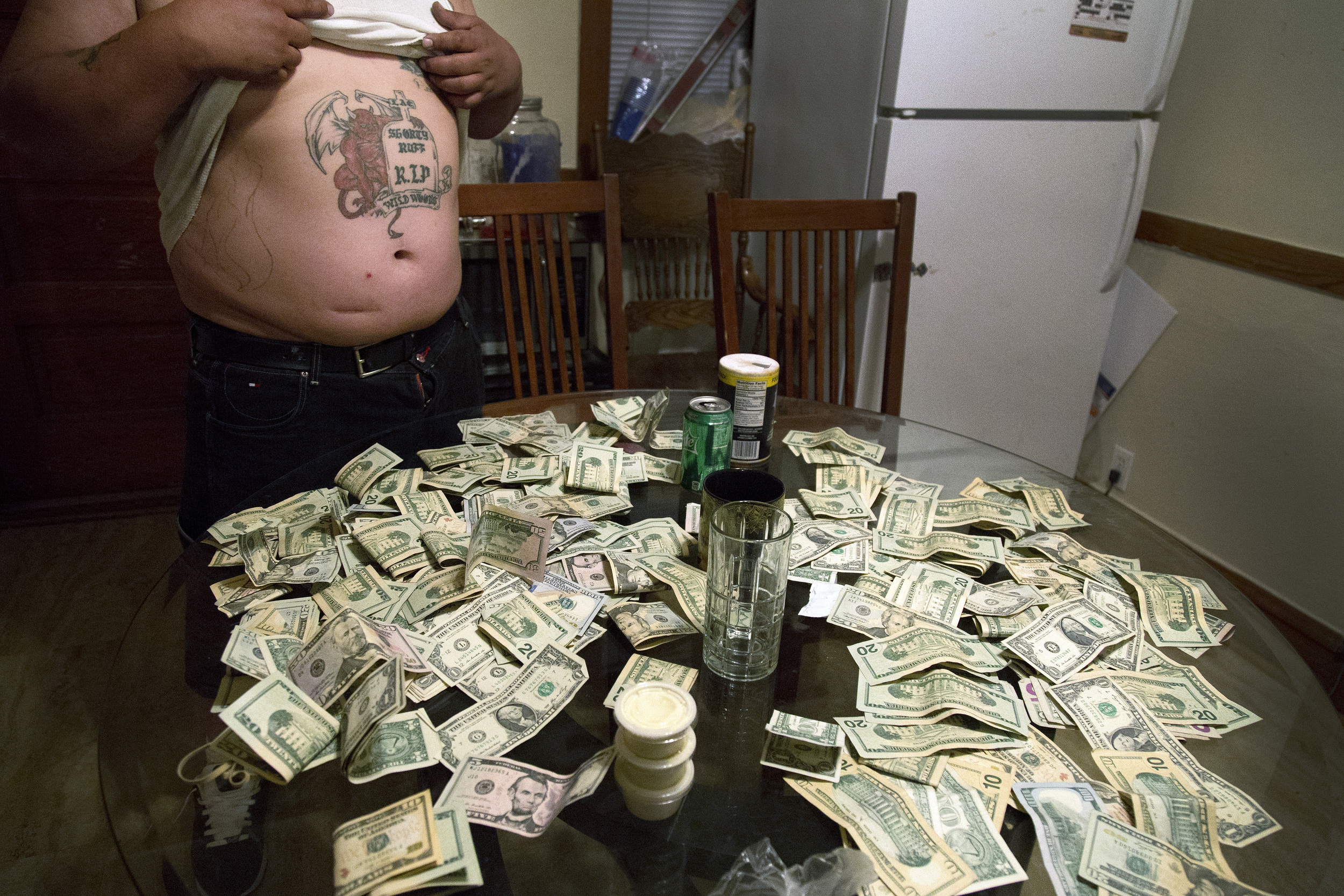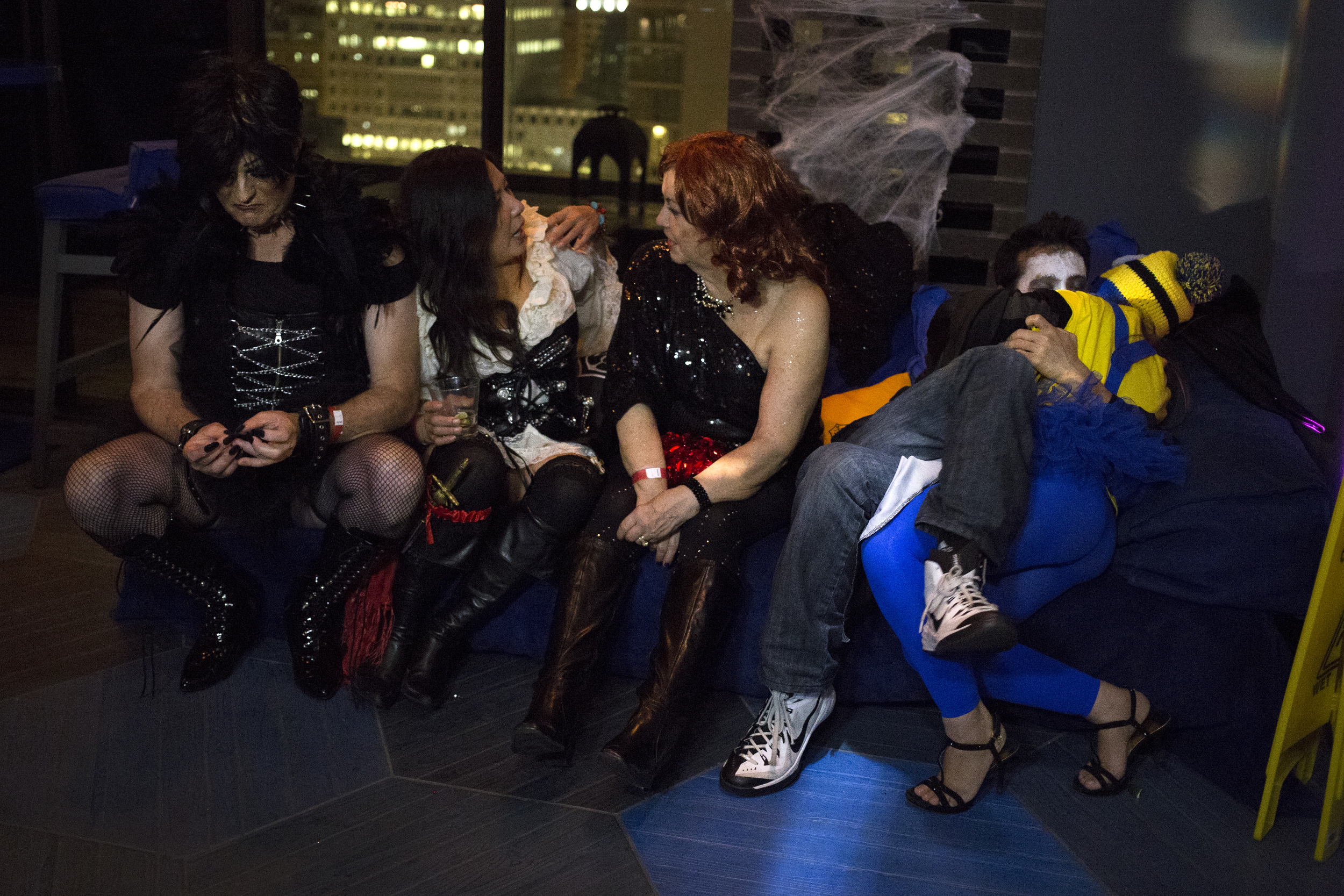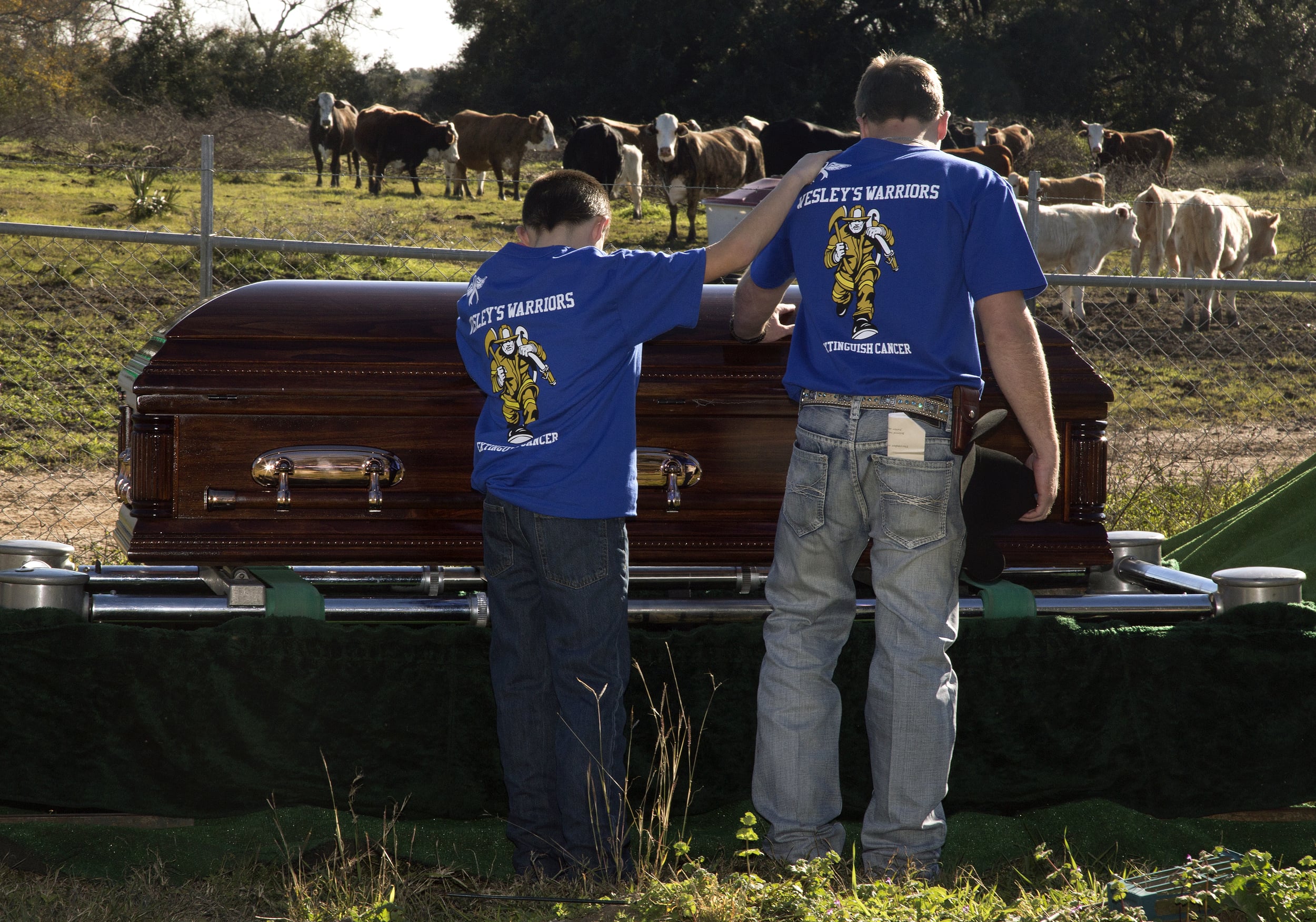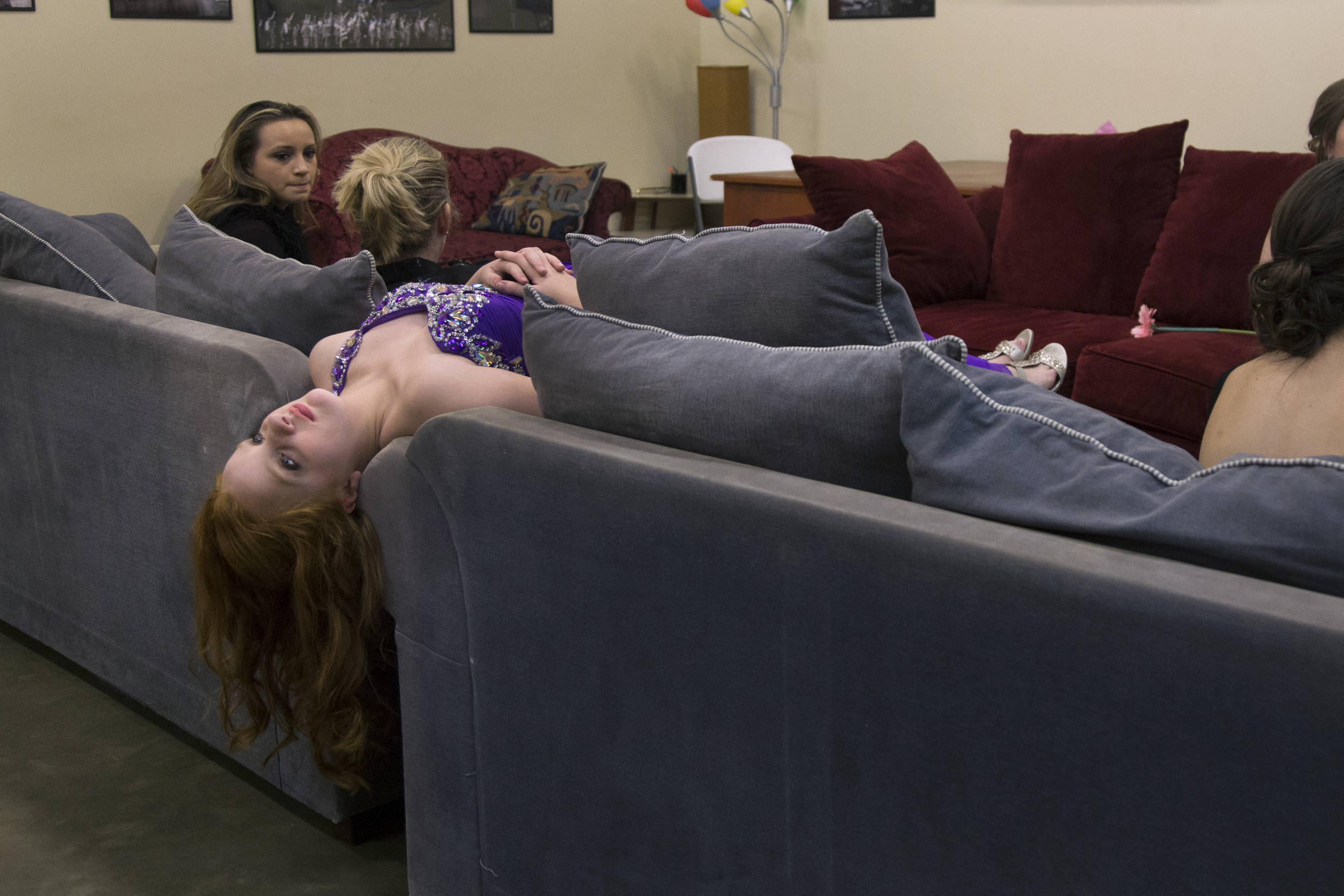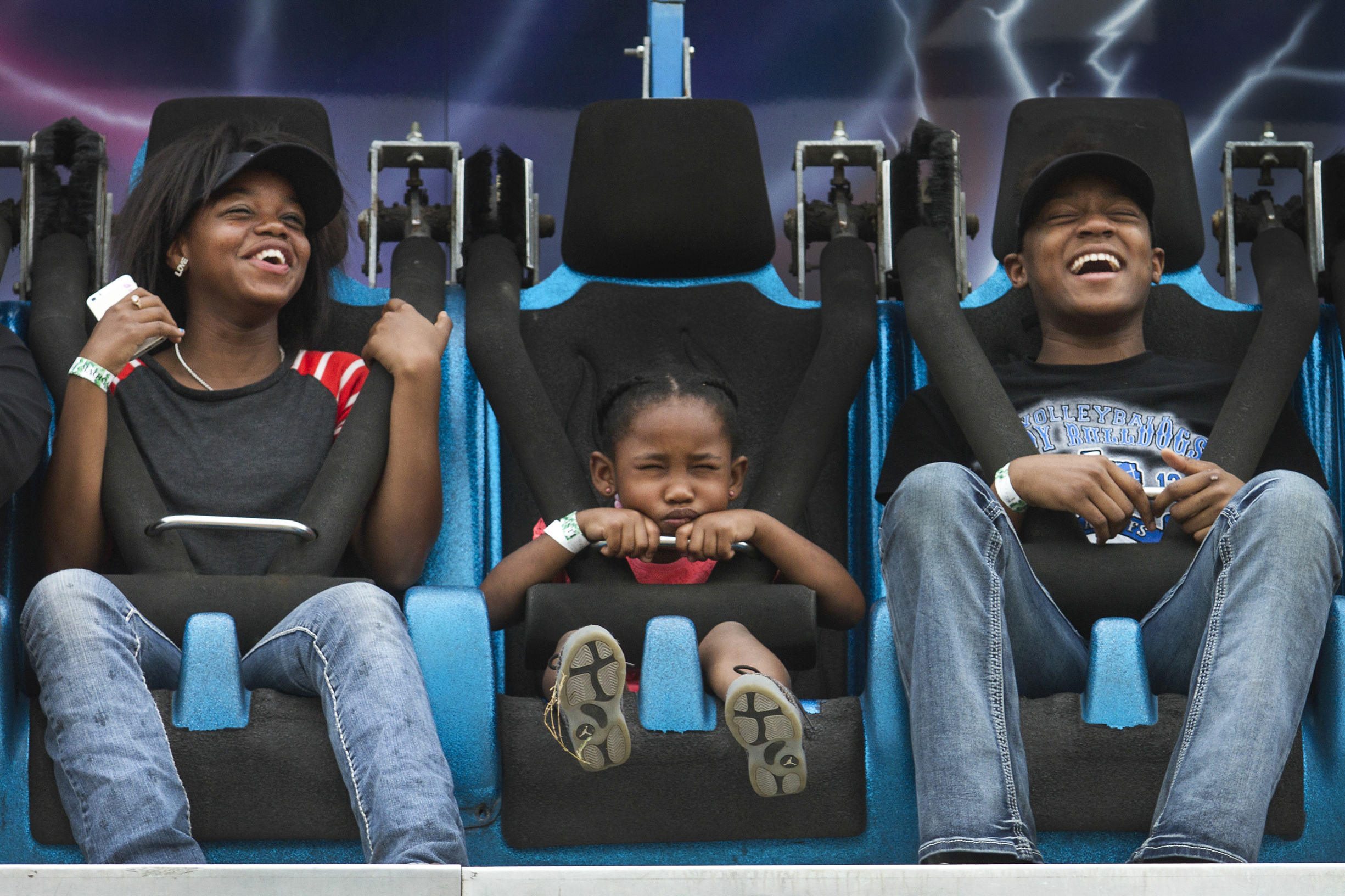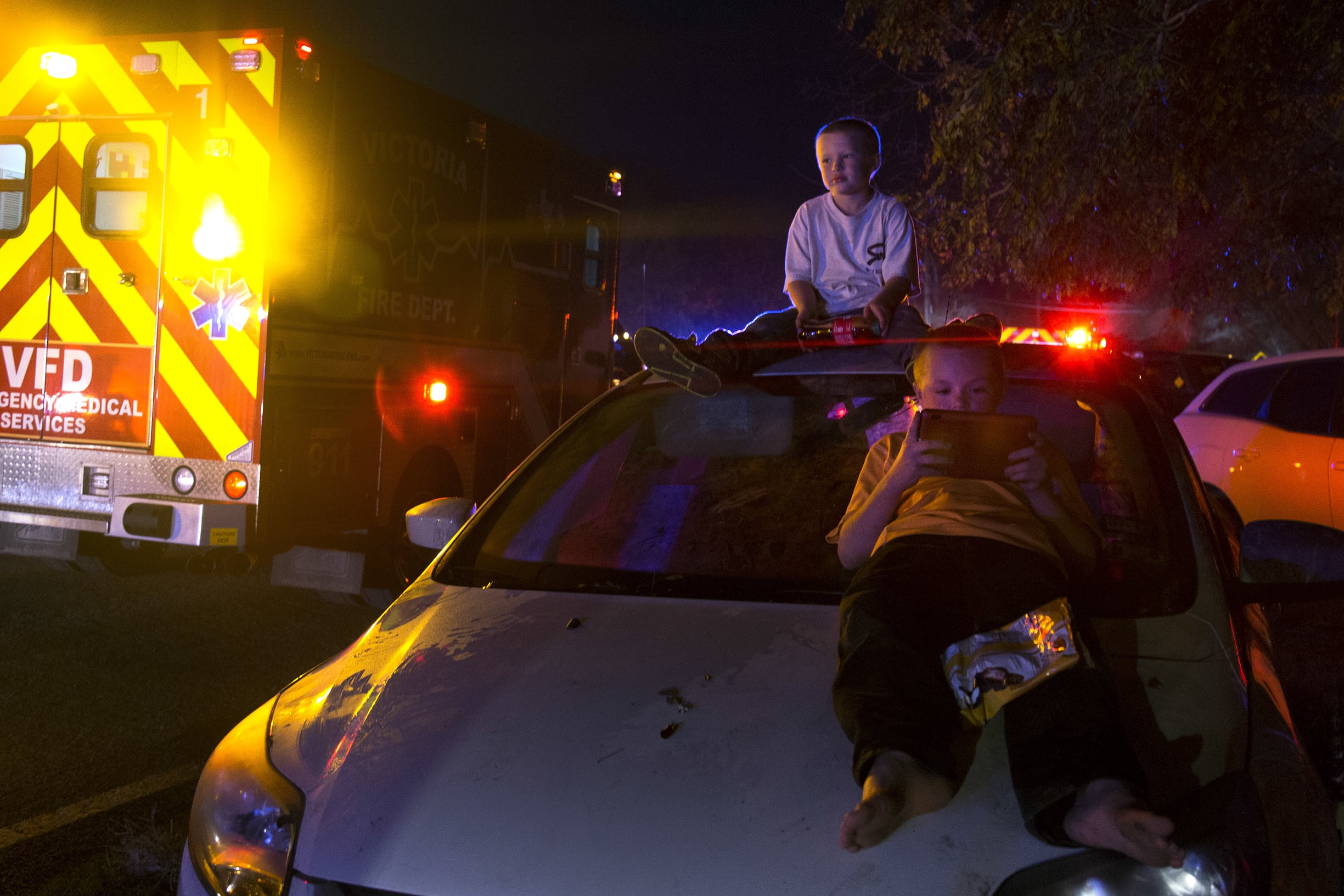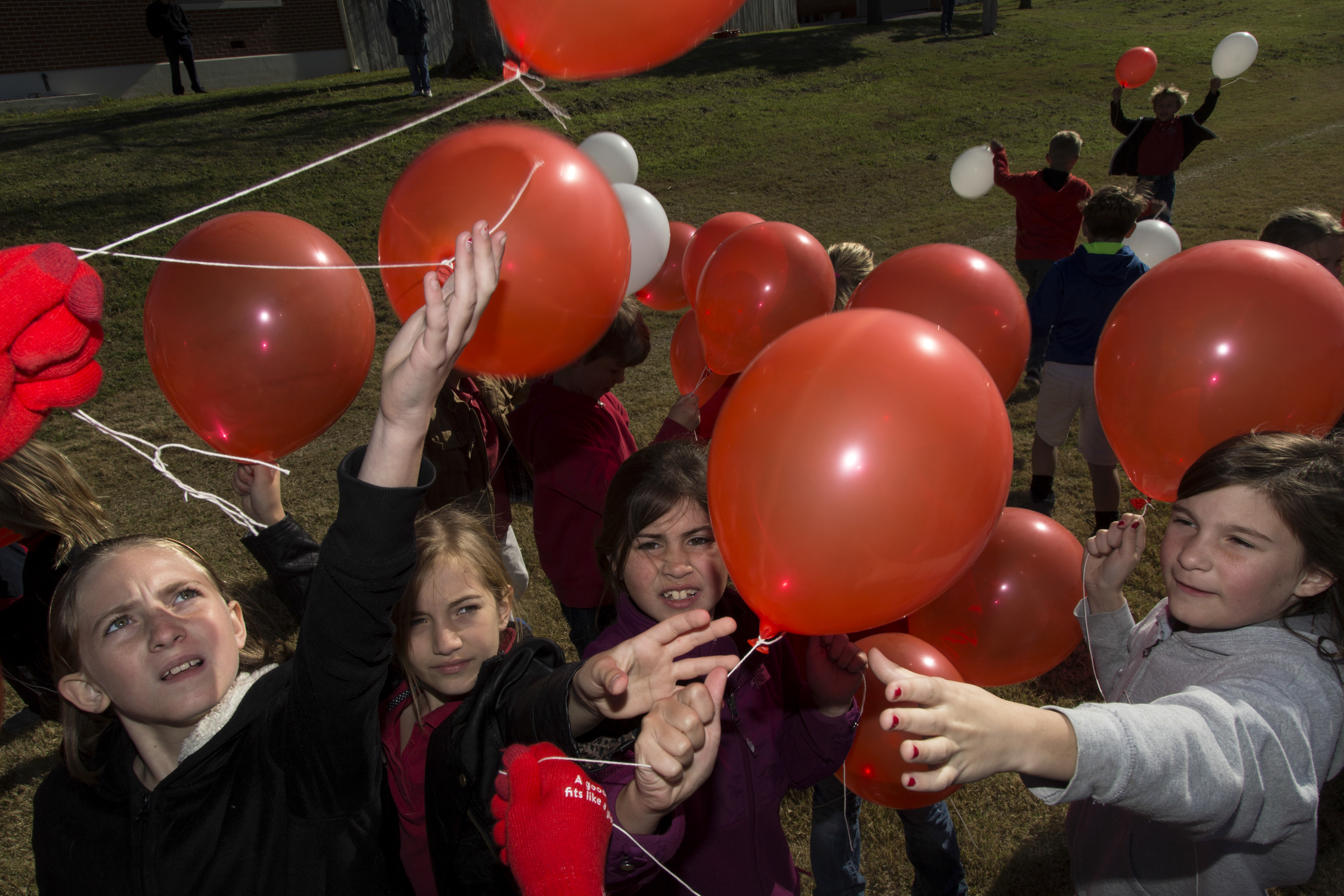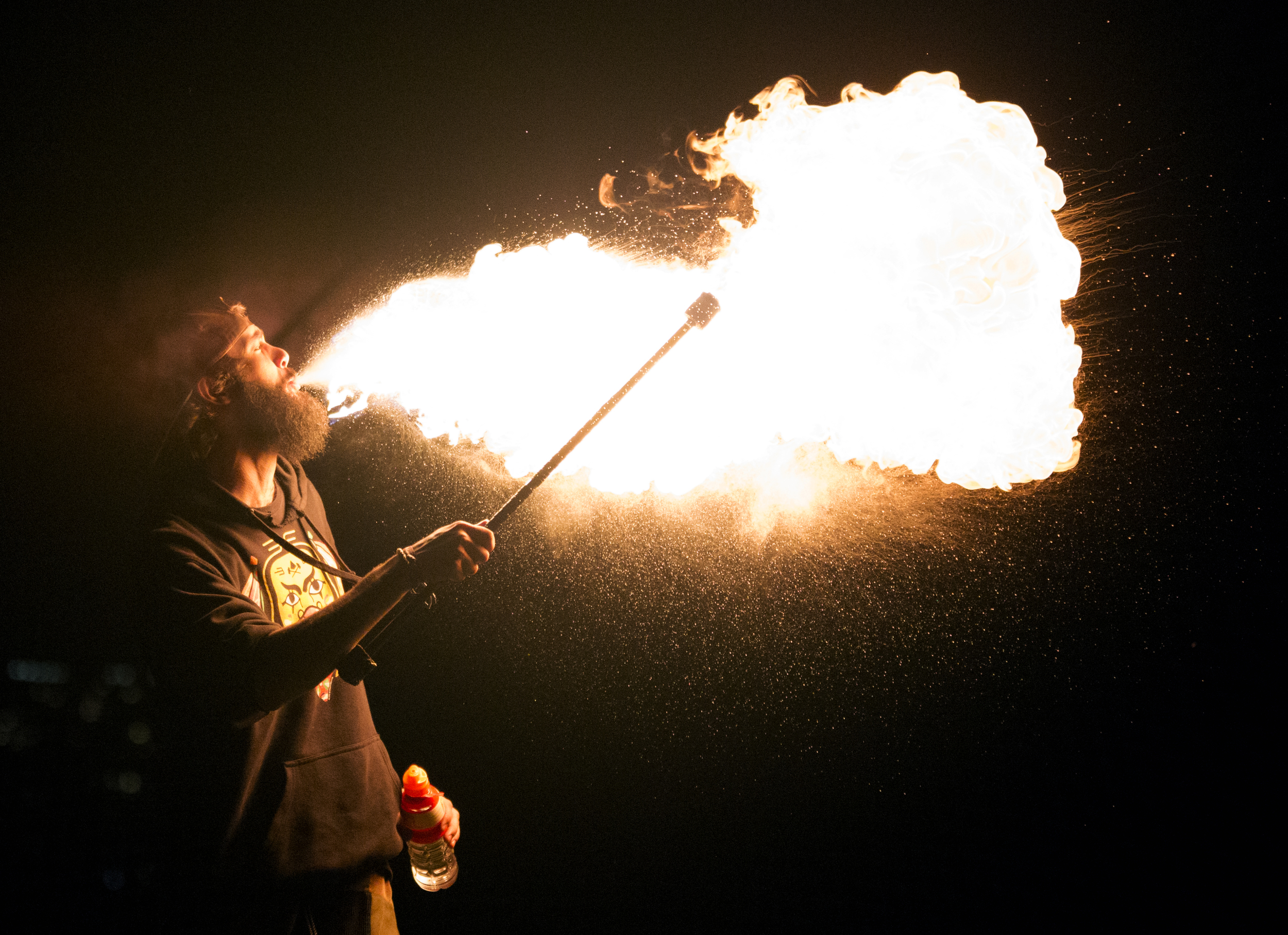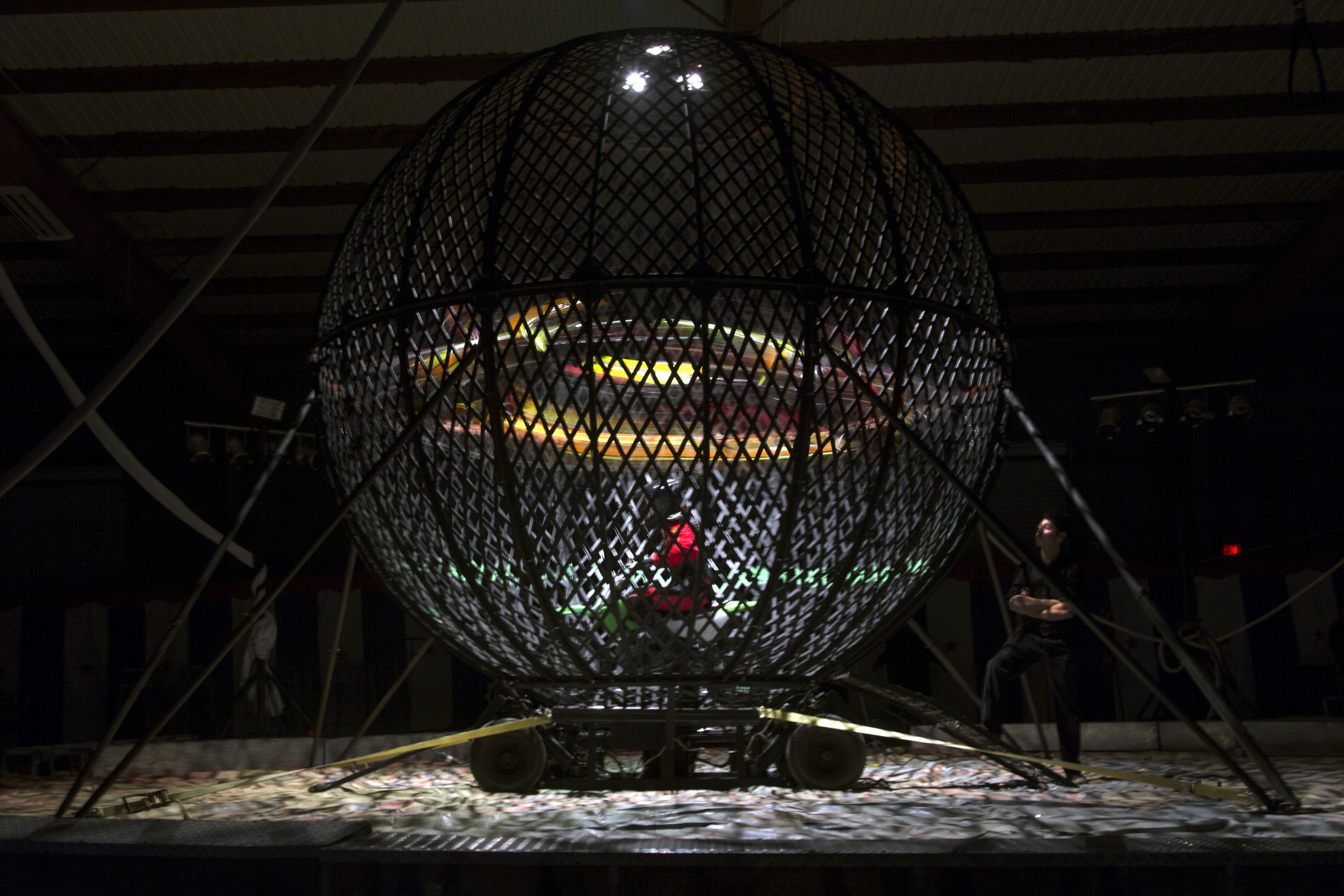 Beer in hand, Mr. Monrial sets fireworks off from the top of his head on Saturday, July 4, 2015, in Chicago's South Side. "I think I must have spent around $2,500-$3,000 on fireworks this year," said Mr. Monrial.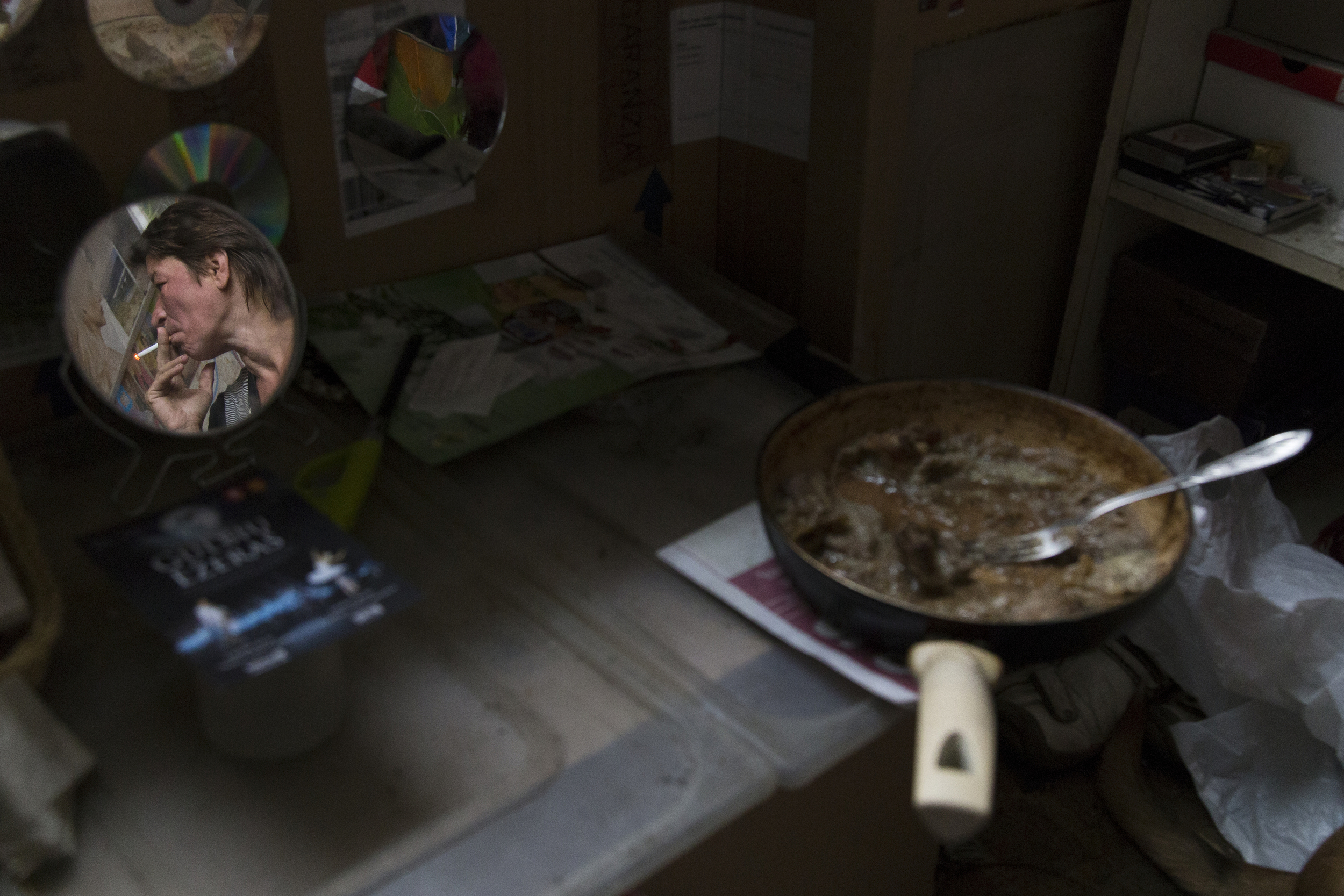 Svetlana, 51, smokes in her room located in an abandoned monastery hospital where she lives with her husband on Aug. 18, 2014, in Vilnius, Lithuania. Living right in the center of the city, where there are more people and tourists, they do not need to travel far when asking for money; however, their location has its disadvantages. "One time I made sandwiches and salad and left the room for a bit. I returned and found the food and the water we were saving missing. It had disappeared. We have a dog now and it lets us know if there are intruders," said Svetlana.
A triumphant pig steps over Cooper Flood during the pig wrestling competition of the Teton County Fair on Thursday, July 28, 2016, in Jackson, Wyo.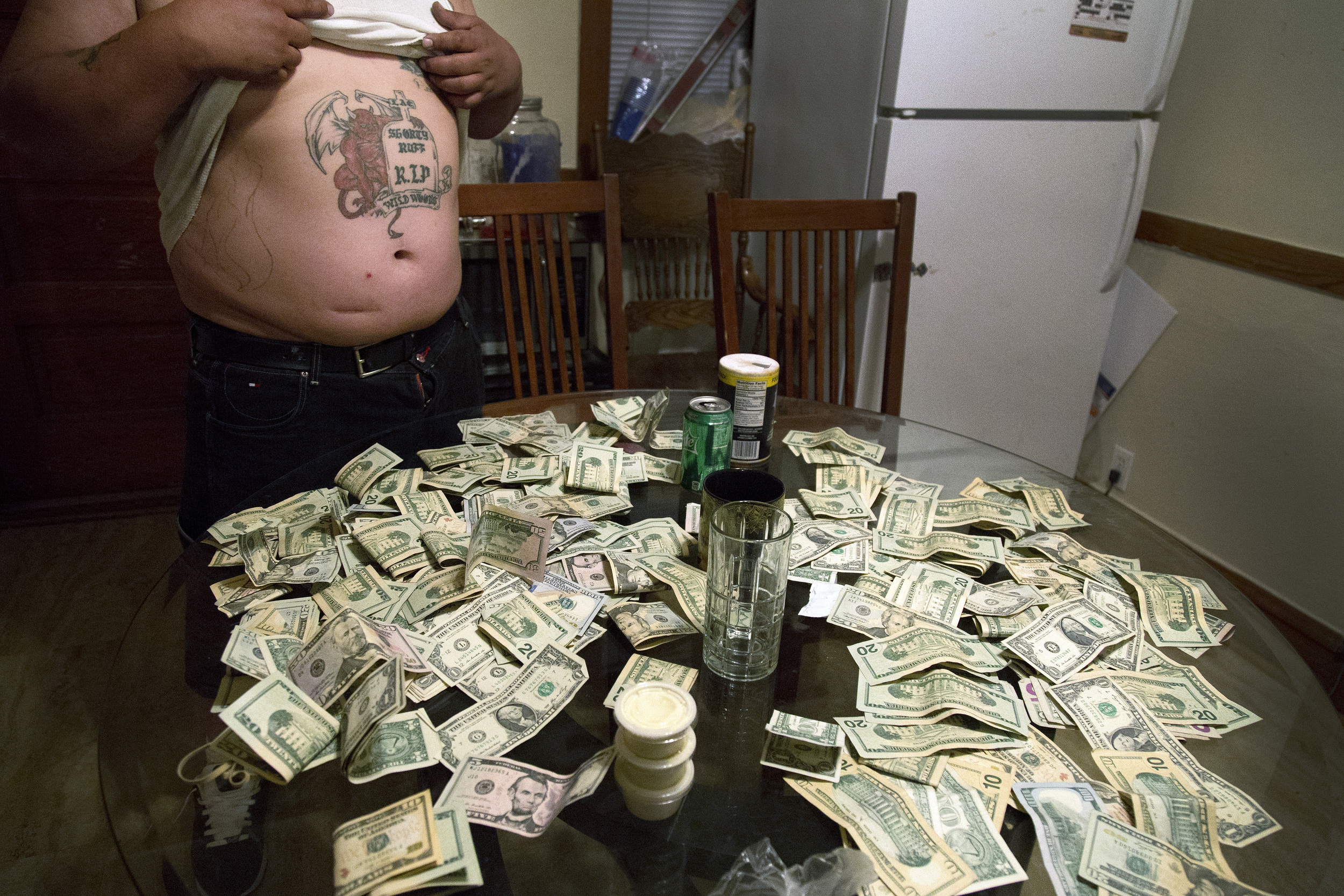 (Name withheld) exhibits money from selling drugs before giving half to his son on July 4, 2015, in Chicago. "My children get good grades, are athletes, and are going into the military. They're not like me." He is on federal parole.
Frances Reid, 8, watches the Wizard of Oz auditions on Friday, September 23, 2016, at the Center for the Arts in Jackson, Wyo.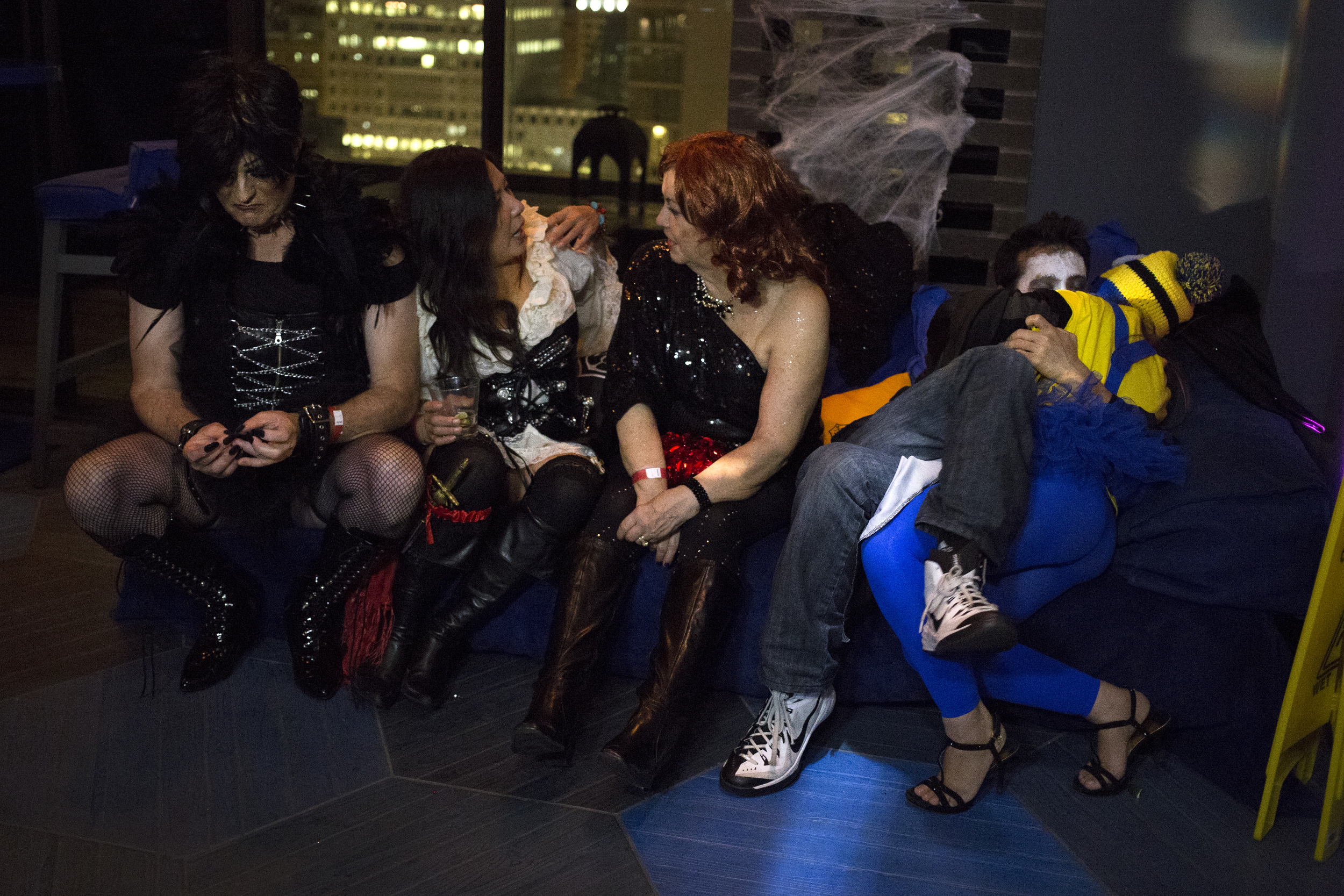 Partygoers at the Undead Disco Virgin Hotels Halloween Party on October 31, 2015, in Chicago, Ill.
From left, Zac Rosser, Augie Henrie, 5, Kjera Henrie, and Lucas Ayoub, perform with umbrellas as a flash mob in front of Town Square for a webcam September 8, 2016, in Jackson, Wyo. The webcam facing Town Square on the corner of Broadway and Cache St. has gone viral with thousands of viewers watching the footage.
The Teton Science Schools' Young Women and Science program — a camp for eighth and ninth grade students from across the country — walk through fog towards willow trees on Thursday, November 3, 2016, near Spring Creek in Jackson, Wyo. As part of their stewardship project, they are propagating willow trees for soil erosion control.
Kershaw Finlay, 4, lies on the ground while his mother, Rebecca Huntington, receives a massage during RaptorFest on Sunday, June 19, 2016, at the historic Hardeman Barns in Wilson, Wyo.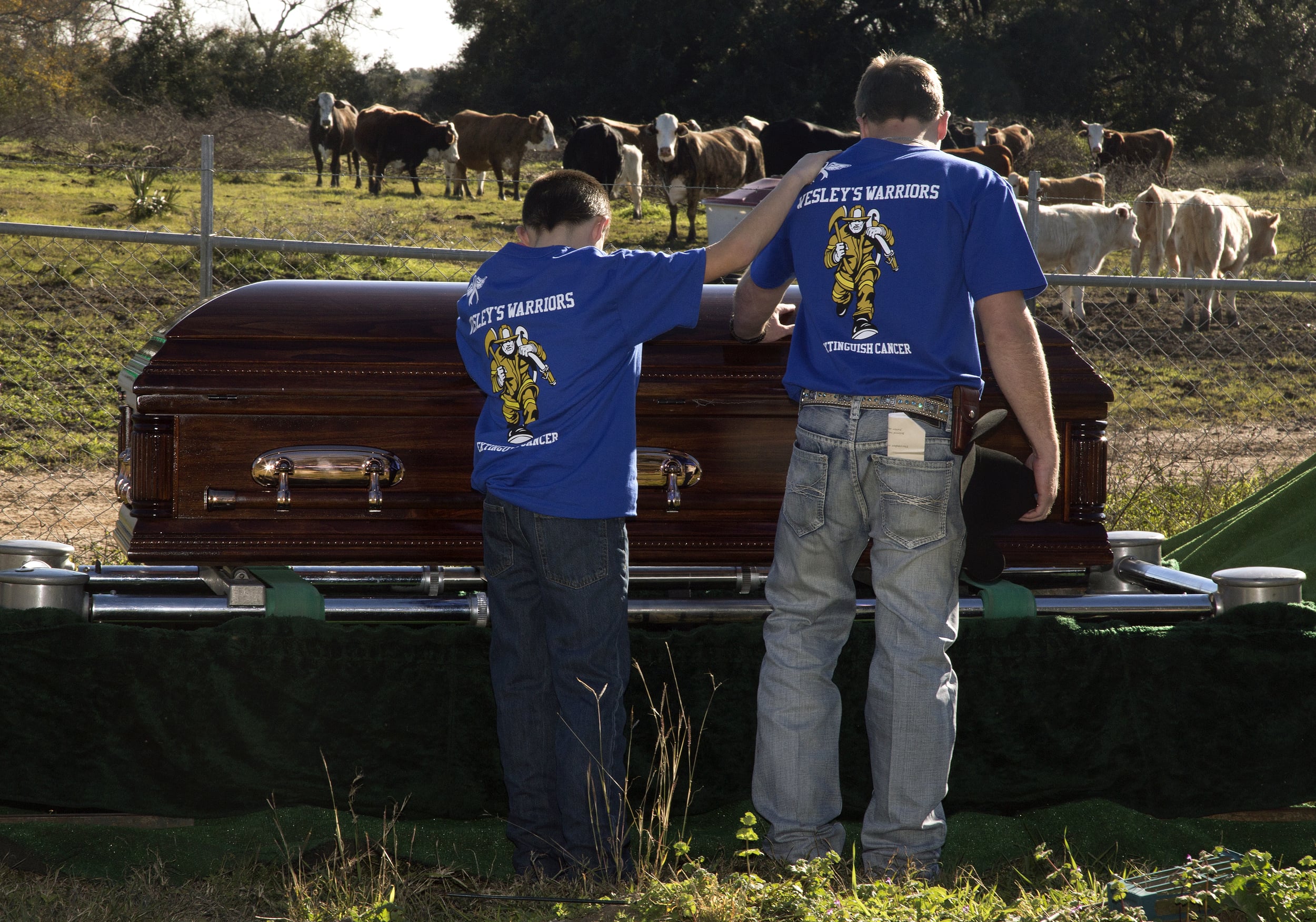 Mourners touch the casket of John Wesley Hendry on Tuesday, January 12, 2016, at Red Bluff Cemetery in Lolita, Texas. Hendry was the fire chief of the Lolita Fire Department and died at the age of 46 of cancer to the brain, lungs, and bones. This is the first fireman's funeral in Jackson County. "I have this hole in my heart that I don't think I will ever be able to fill. His name will go on with his children and grandson," said Betty Conn Hendry, the mother of John Wesley Hendry.
A young girl is comforted at the scene of a collision between a pickup truck and sedan after the truck failed to yield at an intersection on Friday, February 5, 2016, in Victoria, Texas. There were five passengers in the sedan, four of which were children. The pickup truck had three passengers. One child and the driver of the sedan were transported to the hospital.
A storm approaches and Jonas Macius, my grandfather, calls me inside on Aug. 6, 2014, in Tryskiai, Lithuania. "Hurry Rugile, there's nothing to photograph outside. I need to lock the doors and turn off the electricity," said my grandfather.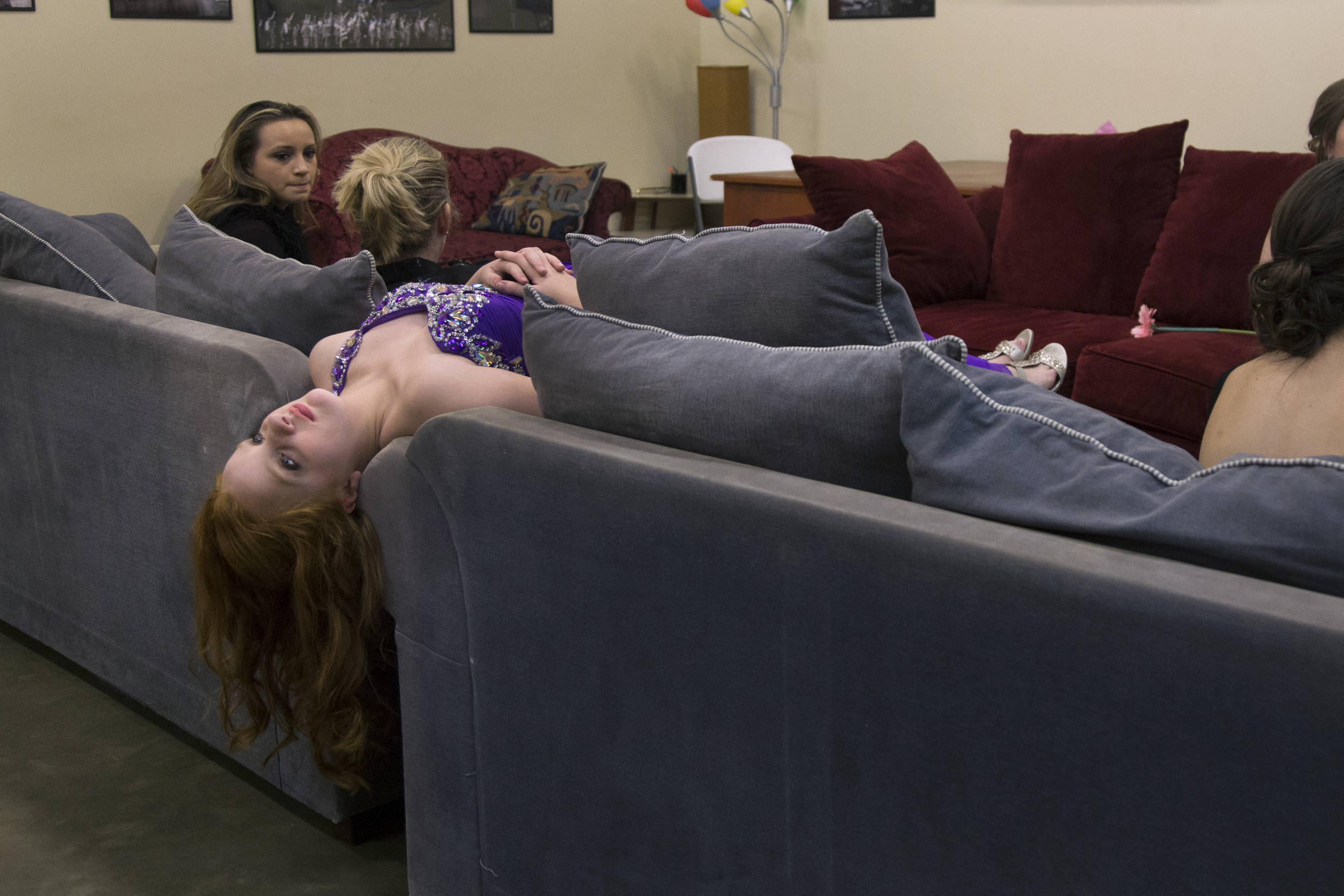 Carlie Parsons, a contestant for Junior Queen Victoria, relaxes backstage during the intermission of the Queen Victoria Pageant on Saturday, January 31, 2016, in Victoria, Texas.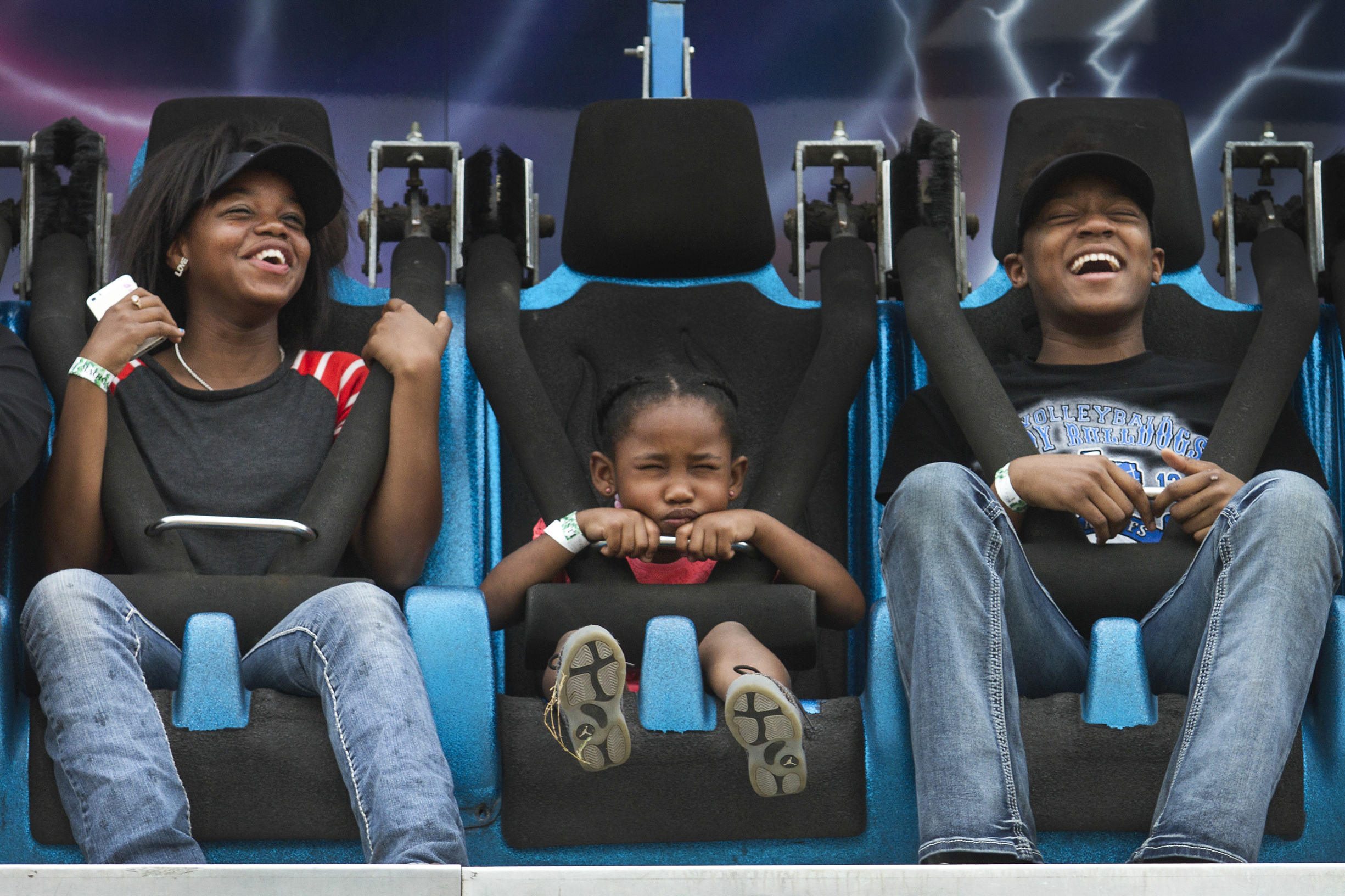 Charisma Thomas, 14, left, Amiyah Burton, 4, center, and Rashel Bonds, 15, ride "Genesis" at the Livestock Carnival on Sunday, February 21, 2016 in Victoria, Texas. "I never want to go on that ride again. It hurt my tummy," said Burton.
Ira Sherlock, 6, watches on as the sinking boat "Aeolus" is towed on Wednesday, July 29, 2015, in Montrose Harbor of Chicago. Wind speeds peaked at 29 knots (33mph) during one of the races held each Wednesday night and the sailboat tipped over after a rail dipped in the water. "We'll be telling tall-tales at the bar tonight, but that probably won't be for another couple of hours," said Tim, the owner of "Aeolus."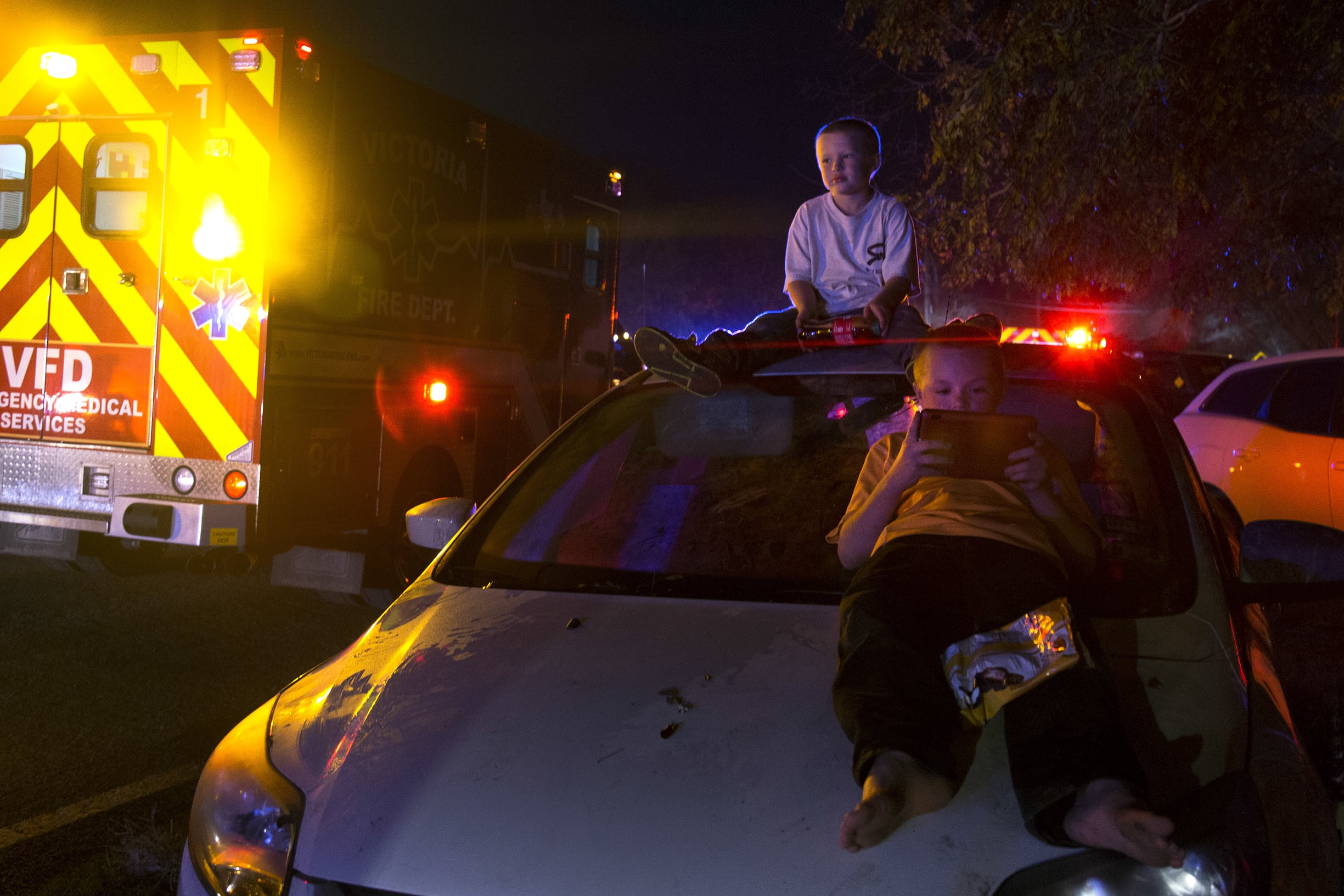 Landen Hartl, 7, left, and J.R. Hartl, 10, right, sit on the hood of their mom's car while emergency vehicles respond to a 1,000 gallon fuel spill at Telferner Grocery and Market on Friday, January 8, 2016, in Telferner, Texas. "[They're acting] like it's a circus. The youngest one was wondering when he would get his sticker from one of the fire crew," said Brandi Mankoski, 39, the mother of Landen and J.R. "They asked some for evacuation for those closer to the store, but they haven't told us anything yet. So, I assume we're good to go," said Mankoski. About 40 people were evacuated from their homes after the fuel spill.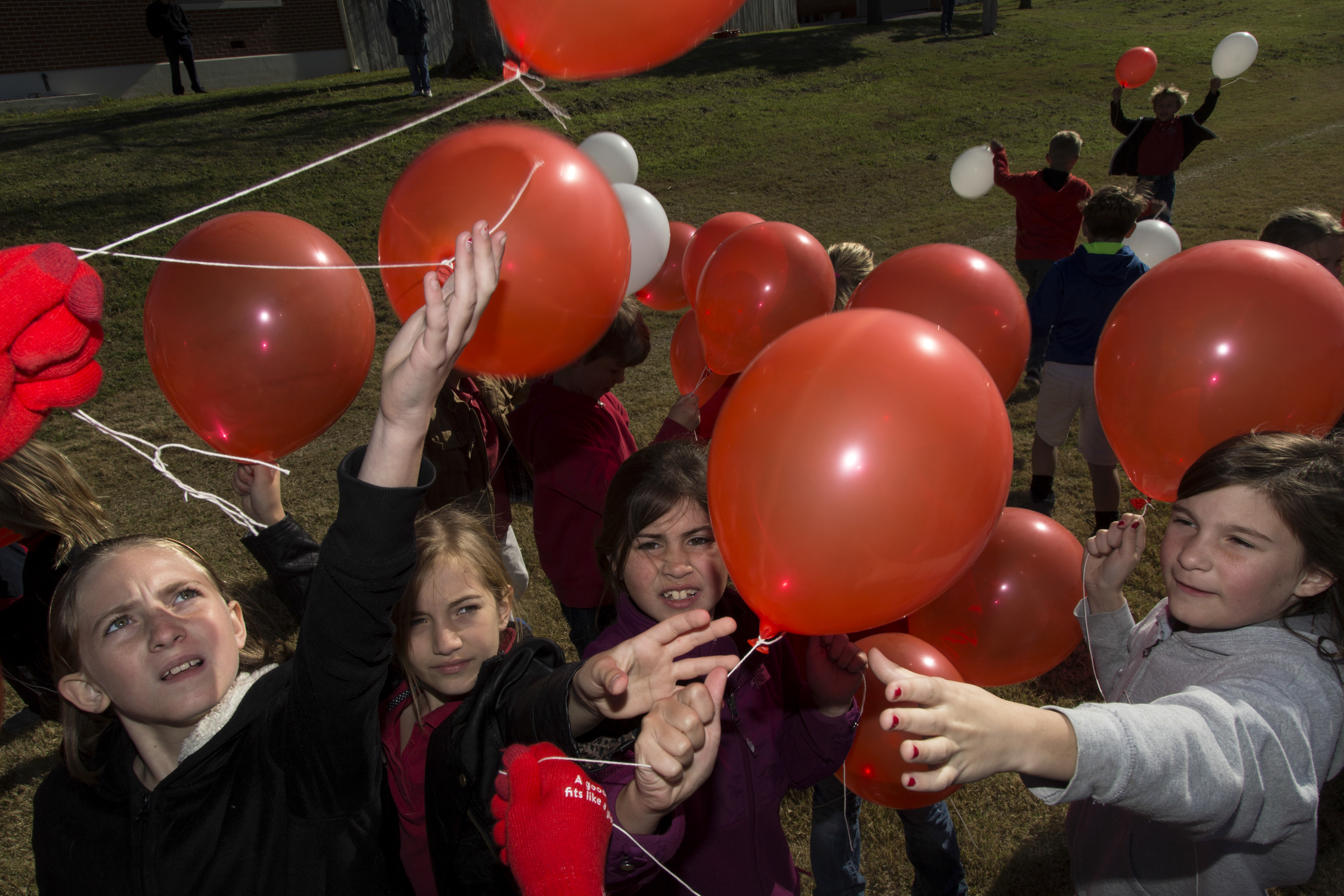 Students of Shiner Catholic School grab balloons as part of Catholic Week's balloon launch on Wednesday, February 3, 2016, in Shiner, Texas. Following a countdown from the local radio station, over 600 balloons were released into the sky.
Zach Wright wipes his face as the team "Muddy Bacon" is sprayed with fire hoses after pig wrestling in the mud at the Teton County Fair on Thursday, July 28, 2016, in Jackson, Wyo.
Jack Hatch prepares his horse to round up grazing BLM mustangs on Friday, September 30, 2016, near Buffalo Valley, Wyo. Hatch spends time with each wild mustang, training them to be a safe, well-behaved horse for the Forest Service wilderness rangers.
Nathan Hough, a field technician, listens for flammulated owls after playing a recording of their call on Wednesday, June 15, 2016, in Bridger-Teton National Forest, south of Wilson, Wyo. He is part of a team conducting a flammulated owl survey.
Stars trail above the Cliff Creek Fire during a seven-minute exposure Friday, July 22, 2016, north of Bondurant, Wyo. The wildfire began Sunday, July 17, after a lightning strike and peaked at 32,330 acres.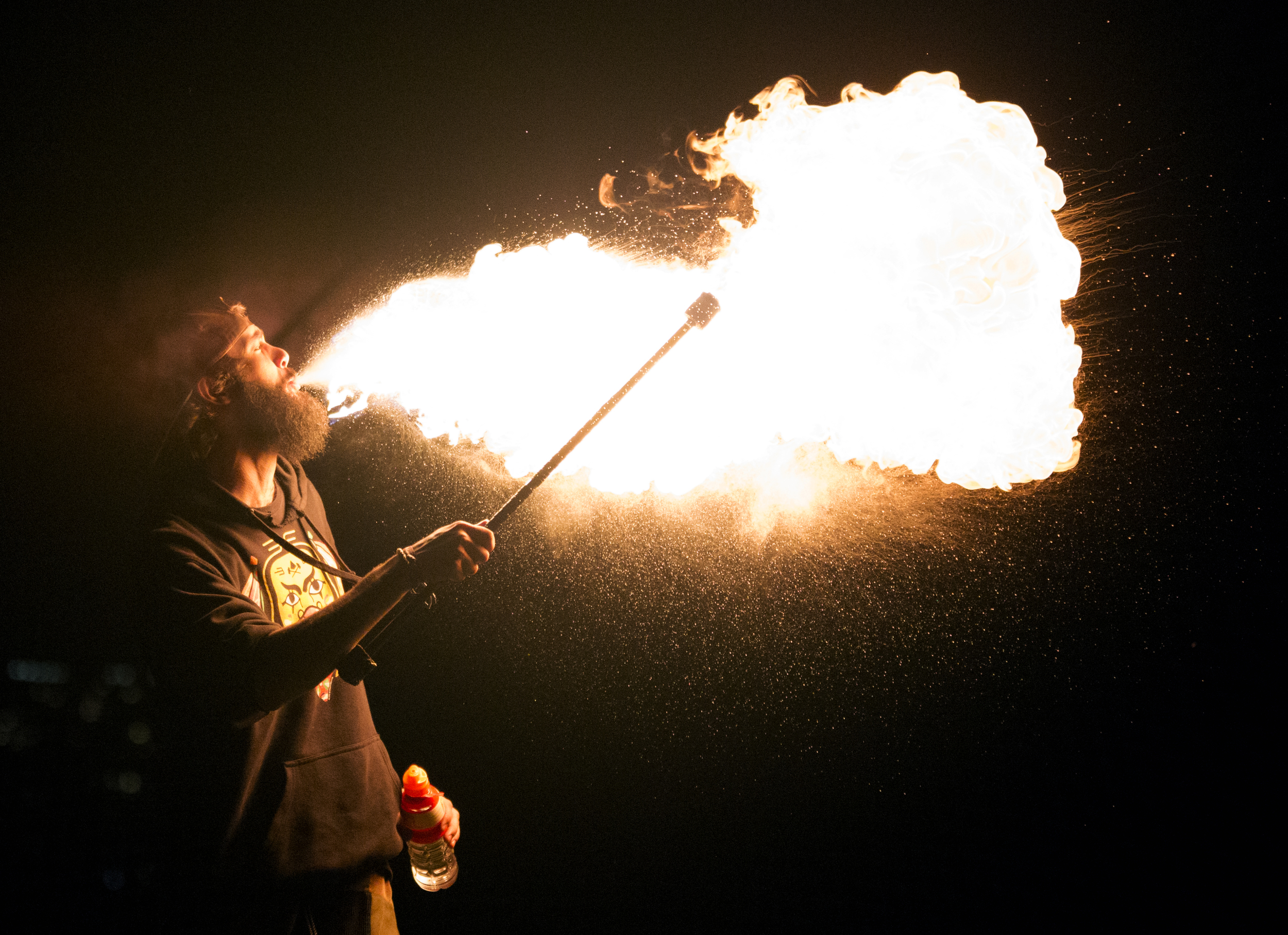 Ryan York spits fire at the Full Moon Fire Jam on July 1, 2015, at Chicago's Foster Beach.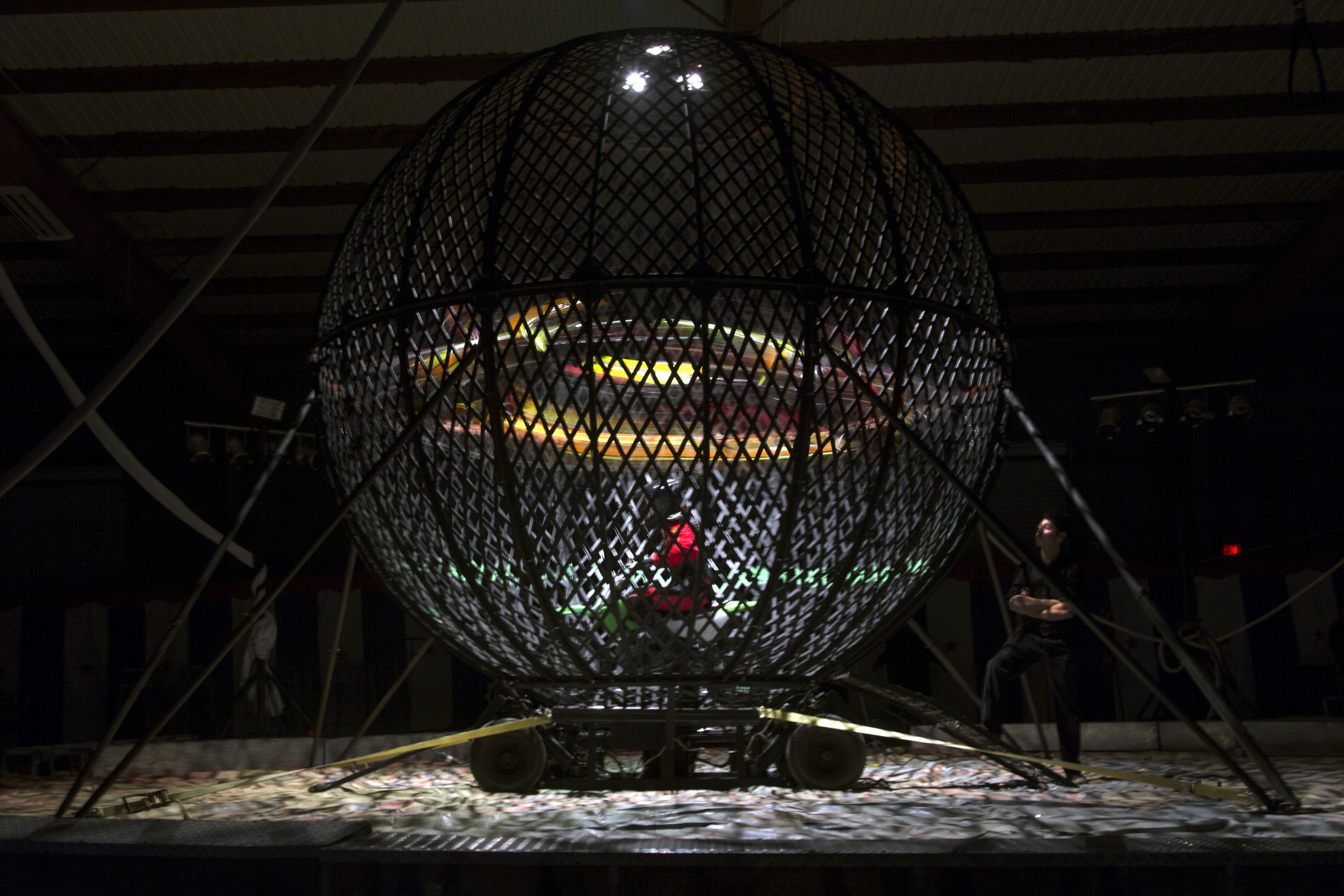 Four stunt riders loop inside the Globe of Death as part of the Motorcycle Madness act during the Al Amin Shrine Circus at the Victoria Community Center Arena on Monday, January 4, 2016, in Victoria, Texas.
After the 46th Annual Chicago Pride Parade, the celebration continued with dancing in a large puddle in a parking lot on Sunday, June 28, 2015 in the Chicago neighborhood, Boystown.
Savanah Buckley, left, and Brandon Ulp, right, point at a double rainbow after a short rain shower at the Fraizer Shows Carnival on Saturday, July 30, 2016, during the Teton County Fair in Jackson, Wyo.