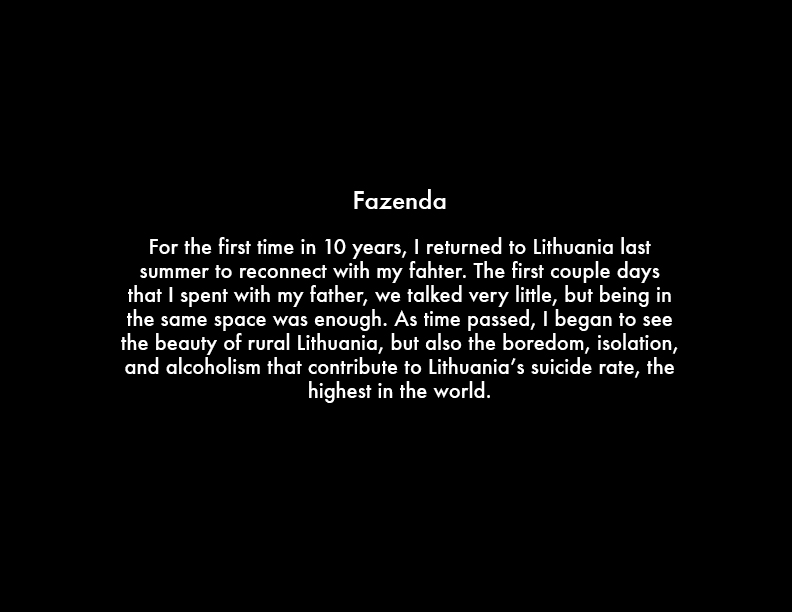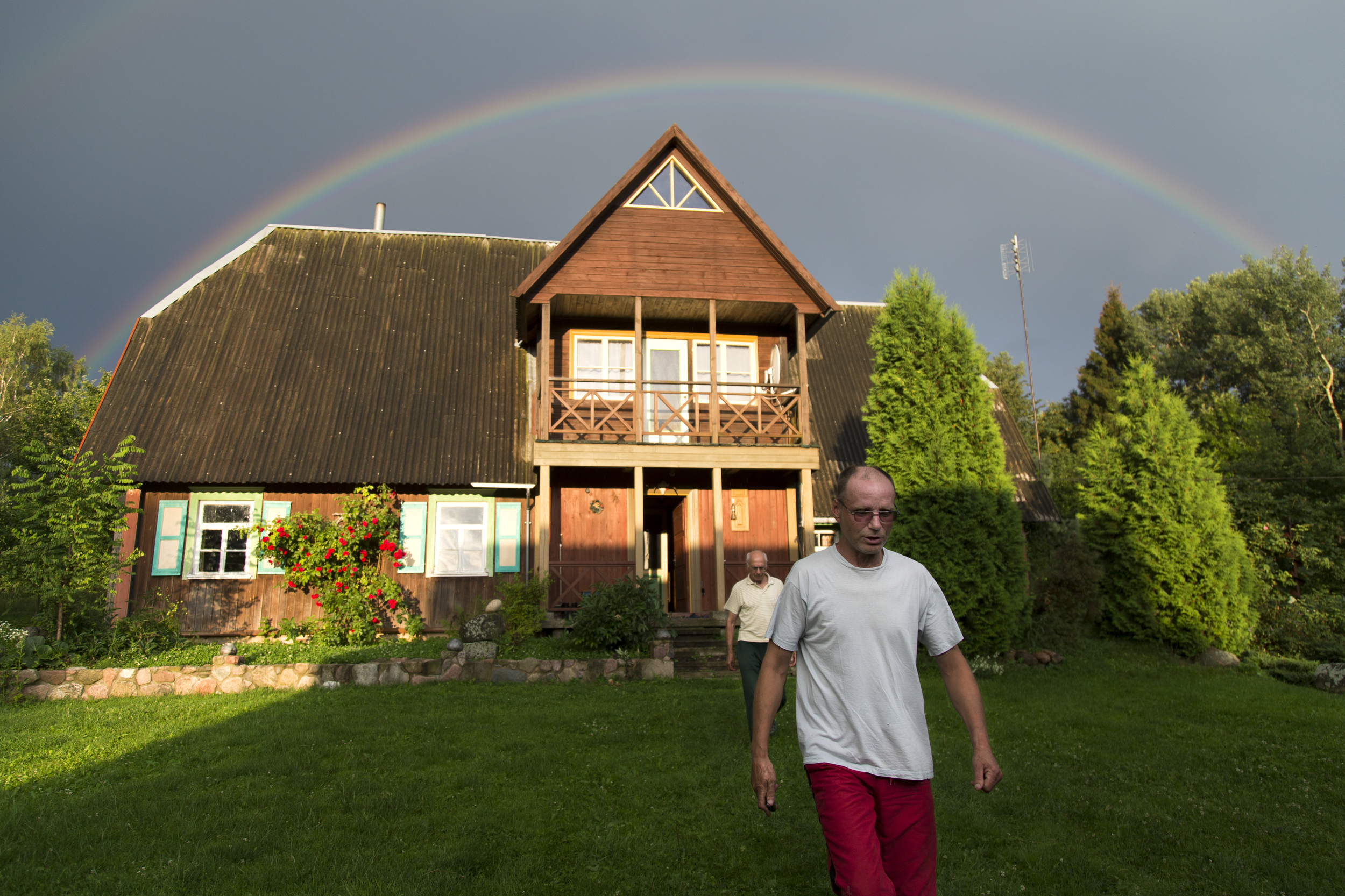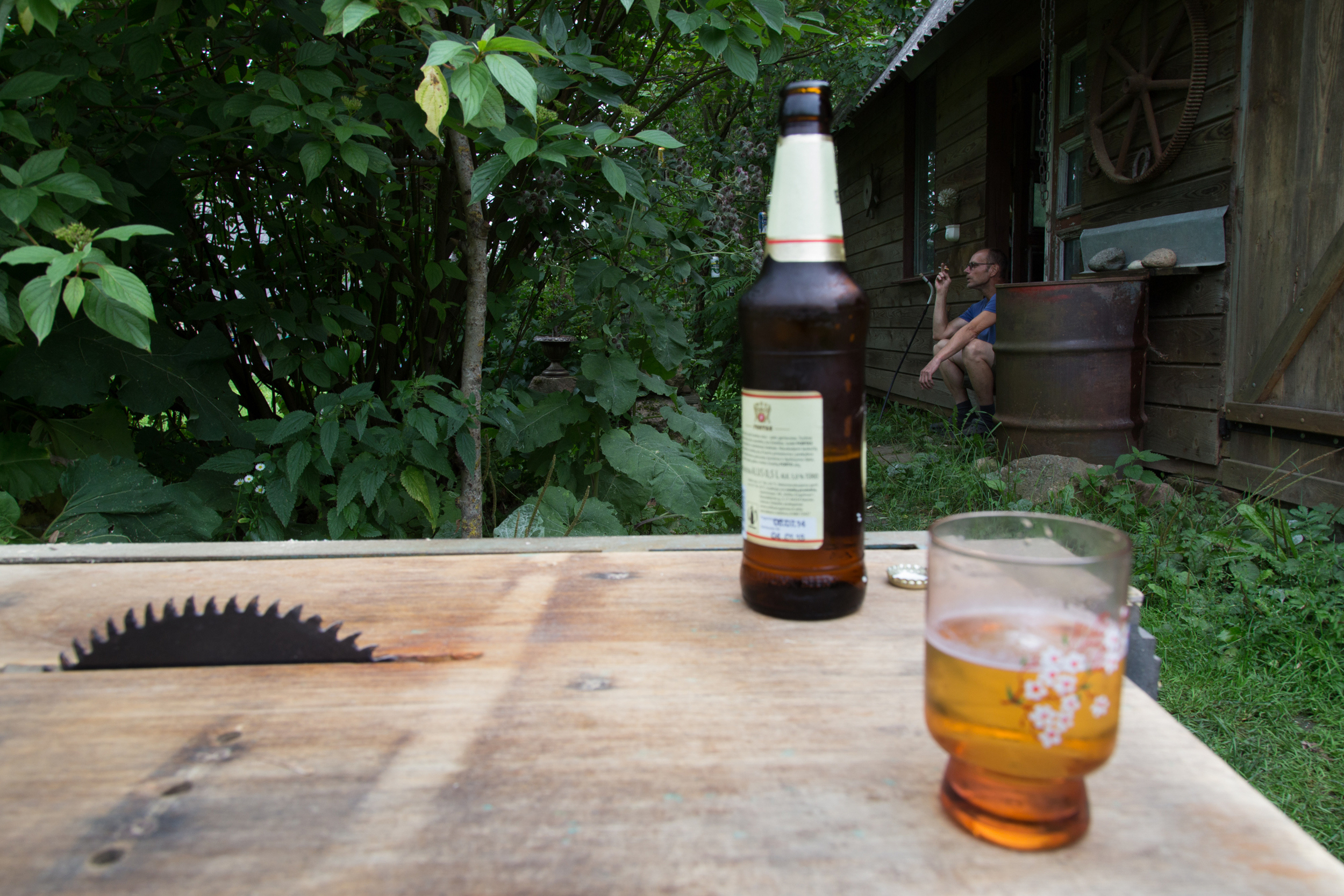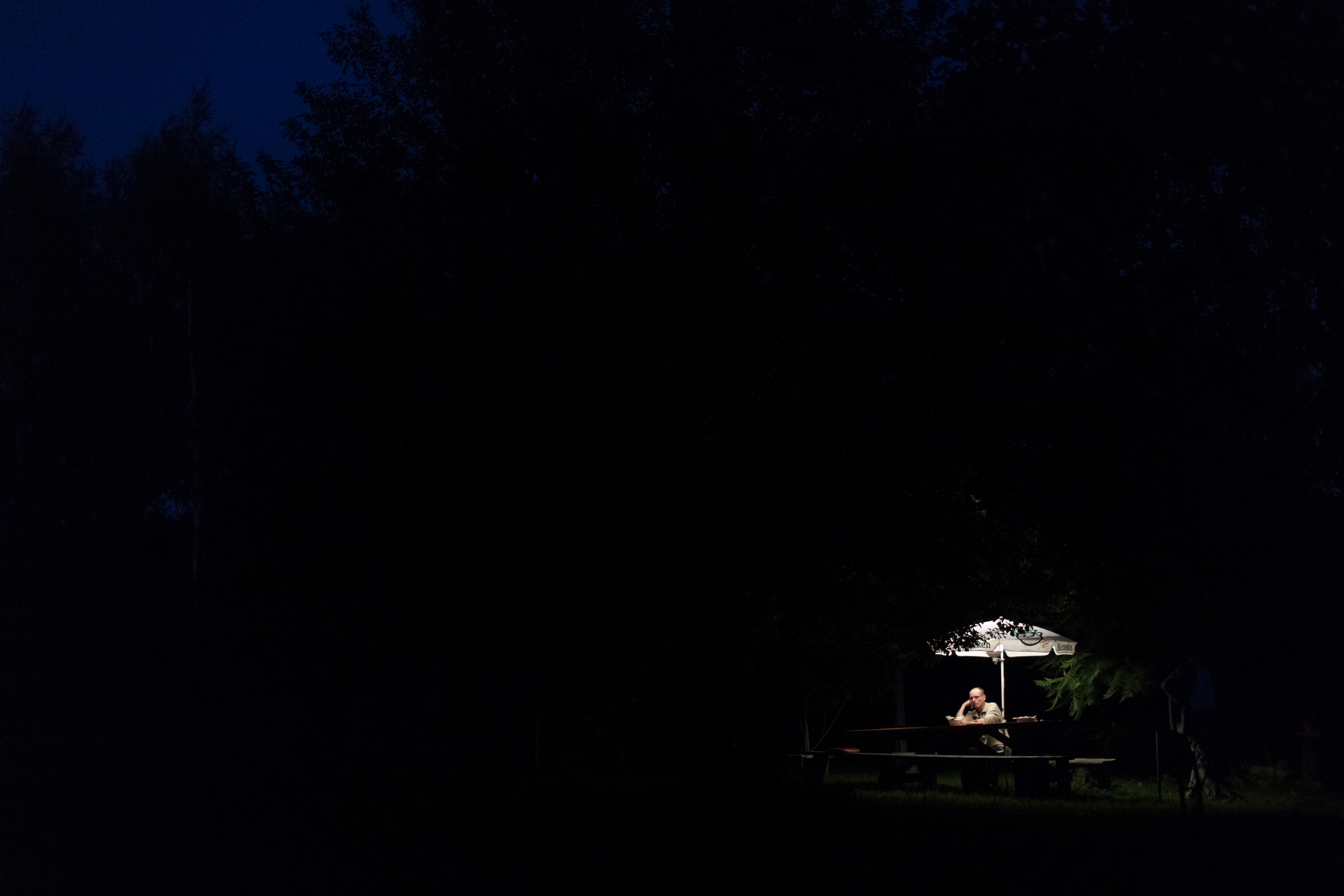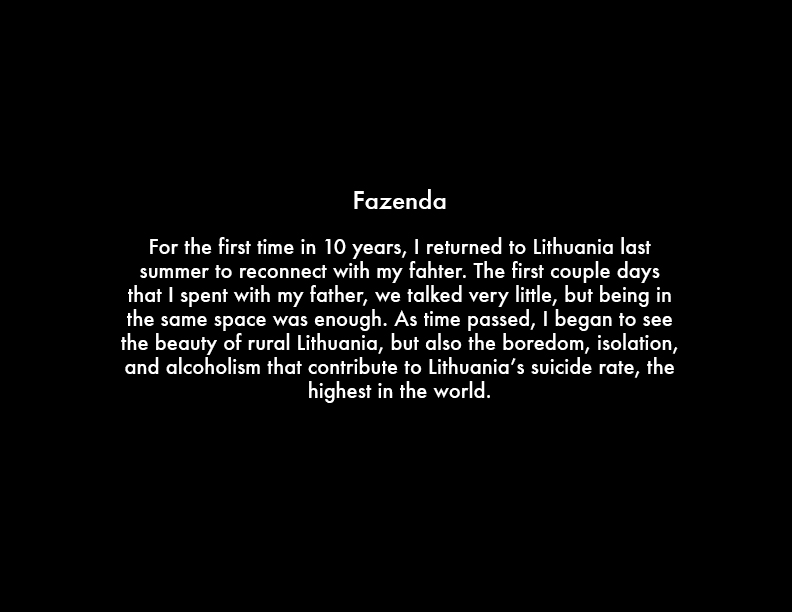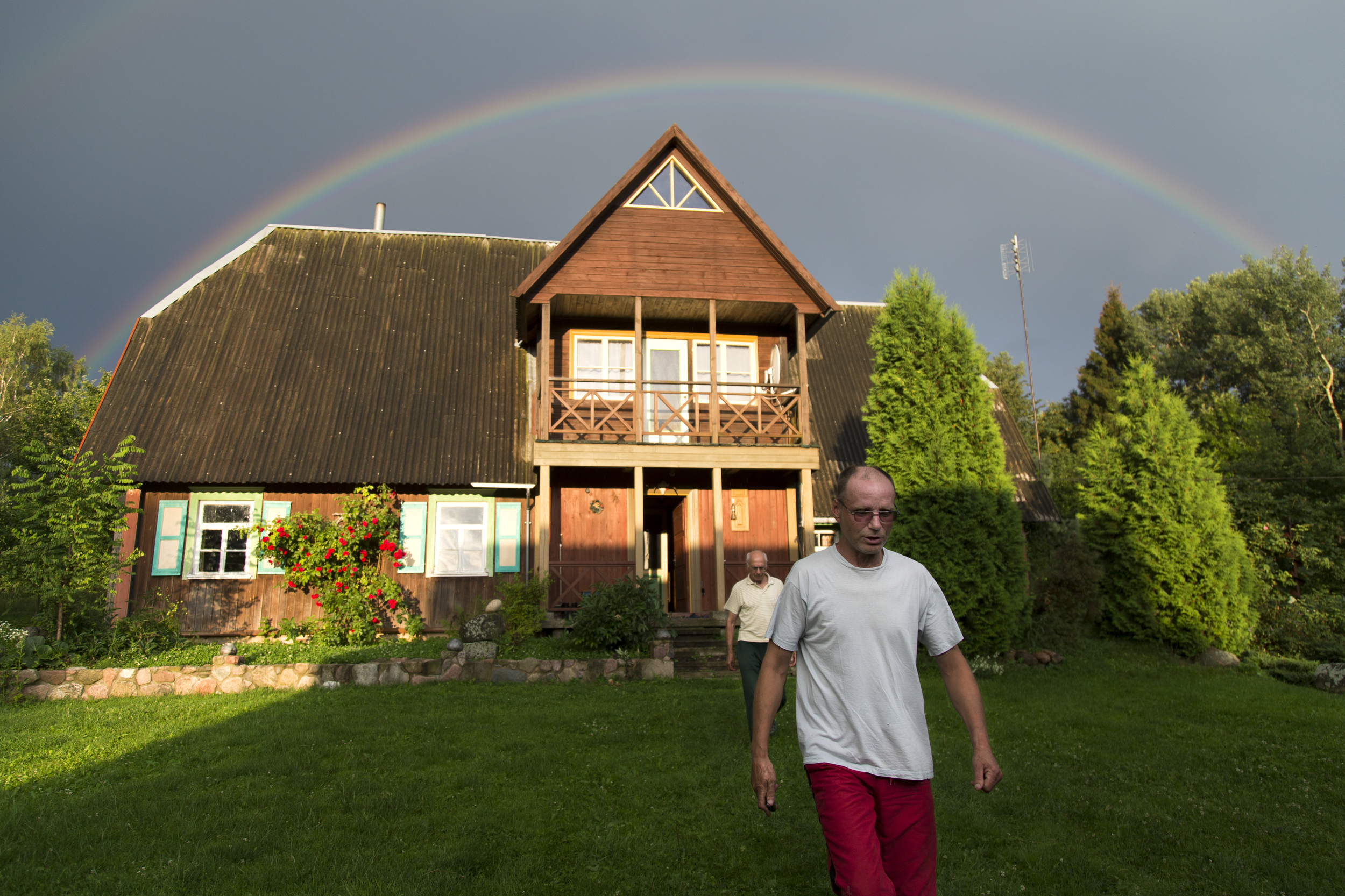 Marius Kalade, 52, and Julius Kalade, 78, walk outside to view the rainbow over my grandfather's house. My father has been living with my grandfather for almost 6 years. We call the property "Fazenda," after the Spanish word for estate, "hacienda."
An axe rests in a wooden block, a "kaladyte."
While shaving, my father's burn marks exposed on his back, behind his ears, on the back of his head, and his hands. I found this as the opportunity to ask my father how he got the scars. He explained that he had gotten them in a car accident, but fabricated parts of the story that I knew were not entirely true, while also eluding completely to it being a suicide attempt. When I told him about my project and said that I heard from someone that the car accident wasn't entirely an accident, he was silent for a bit before responding. "When people attempt suicide, they usually don't want to talk about it," said my father. Reports from the World Health Organization show that Lithuania has the highest suicide rate in the world; 34 of every 100,000 people in Lithuania commit suicide.
As my dad was installing decorative lights above his window, I pointed out the angel figurine on the left.
R: "I've noticed the angels and pictures of Jesus and Mary around the house. Are you religious?"
M: "Not really. I'll go to church every now and then, but you won't really know for sure until the end."
R: "We'll have to let each other know."
M: "I'll write you a letter, "It's hot in hell. Rugile, be good!' Haha."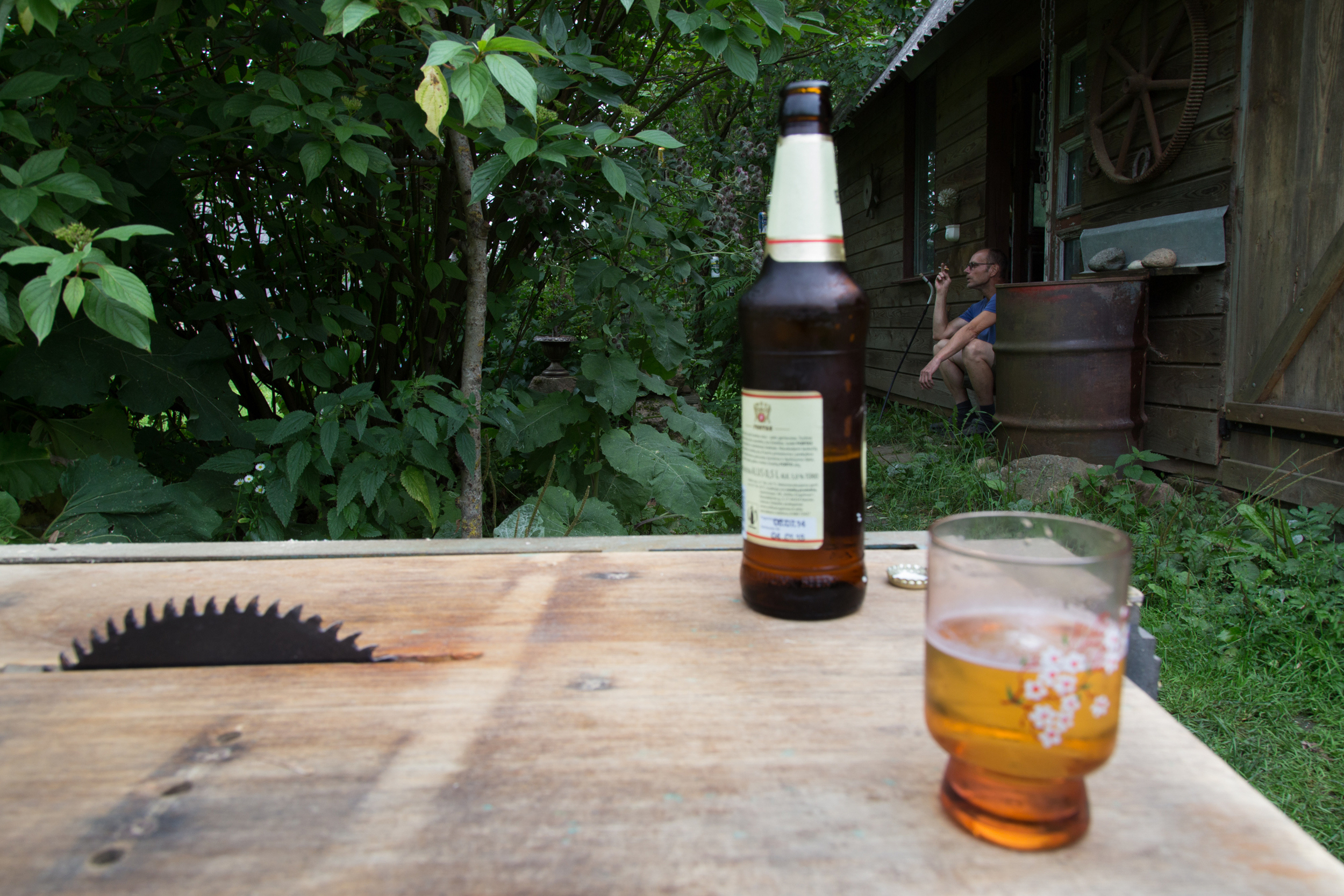 "Sometimes I'll bring a bottle of beer, and what, drink it myself? I'll say, 'Maybe you want some in a glass?' 'No, I don't want any.' Darn it. And then tomorrow, you look and he comes home drunk after meeting with a friend. It's strange… It seems like a person doesn't need a drink, but as it turns out, he just needs a better offer," said my grandfather.
My father leads his blind friend Jonas from the bus stop to his house. He has been using his motorcycle to get around and explains that he lost his driver's license a year ago. "The police were pulling everyone over that came through town and I had a blood alcohol level of 0.08 when the legal limit is 0.04. The same thing happened to my neighbor the next day," said my father. My grandfather told me what actually happened… My father lost his license for three years after crashing his car while under the influence with his blood alcohol content at 0.293. On the way back from Jonas' house, my father bought a large bottle of beer from a mobile store and asked me not to tell my grandfather. Hoping to gain his trust, I remained quiet, but was disheartened to find the bottle empty less than an hour later.
My grandfather takes turns drinking a shot of vodka with my cousin and uncle. Alcohol is consumed as beer during dinner, champagne during name days, and as shots of vodka when guests come to visit. My father, an alcoholic, is constantly exposed to this.
My grandfather draws back the curtain to reveal my cousin's meowing cat, Galina. "Galina was in Vilnius and we brought her here to Fazenda for a vacation. She's been on vacation for six years. She has a good life," said my grandfather.
My uncle, aunt, and father relax by the lake that is only a short drive from our house. They watch others swimming, jet skiing, and boating. "Ten years ago, you didn't see these houses along the lake. It used to be very quiet here. In another ten years, they'll probably build a resort," said my uncle.
"I've noticed a change in him. Over the phone, he'll say, 'Today, Rugile and I went to the lake' or 'We rode our bikes to the village.' He gets so excited when he talks about you. Marius seeing you could be what sparks the change he needs," said my grandmother.
My father unloads a food basket with the labeling "Europos pagalbos labiausiai skurstantiems asmenims fondas," which translates to "European aid to the most deprived persons in the fund." The food basket consists of wheat flour, sugar, cooking oil, pasta, rice, buckwheat, barley, canned meat, and breakfast cereal.
In the evening, my grandfather prepares a wheelbarrow to collect hay. The entire week was very hot with temperatures ranging from 30-35 degrees Celsius (86-95 degrees Fahrenheit) and work was only done in the early morning and evenings to avoid the heat. "It's even too hot to drink beer right now," said my father.
While my father and I were riding our bikes around the village trying to find him work, we stopped by Saulius' house. I recognized Saulius as the person we gave a lift home in our car when he had too much to drink a week ago.
R: "Is he your friend?"
M: "He's not really a friend, but a neighbor. Better to not have friends that drink like that. He's... an acquaintance."
Saulius called my dad the next day and invited him over to drink at 8 a.m. My father refused.
Traditional Lithuanian food is eaten during lunch: saltibarciai (a cold beet soup), eggs, dark rye bread, potatoes and dill from the garden, and sausage.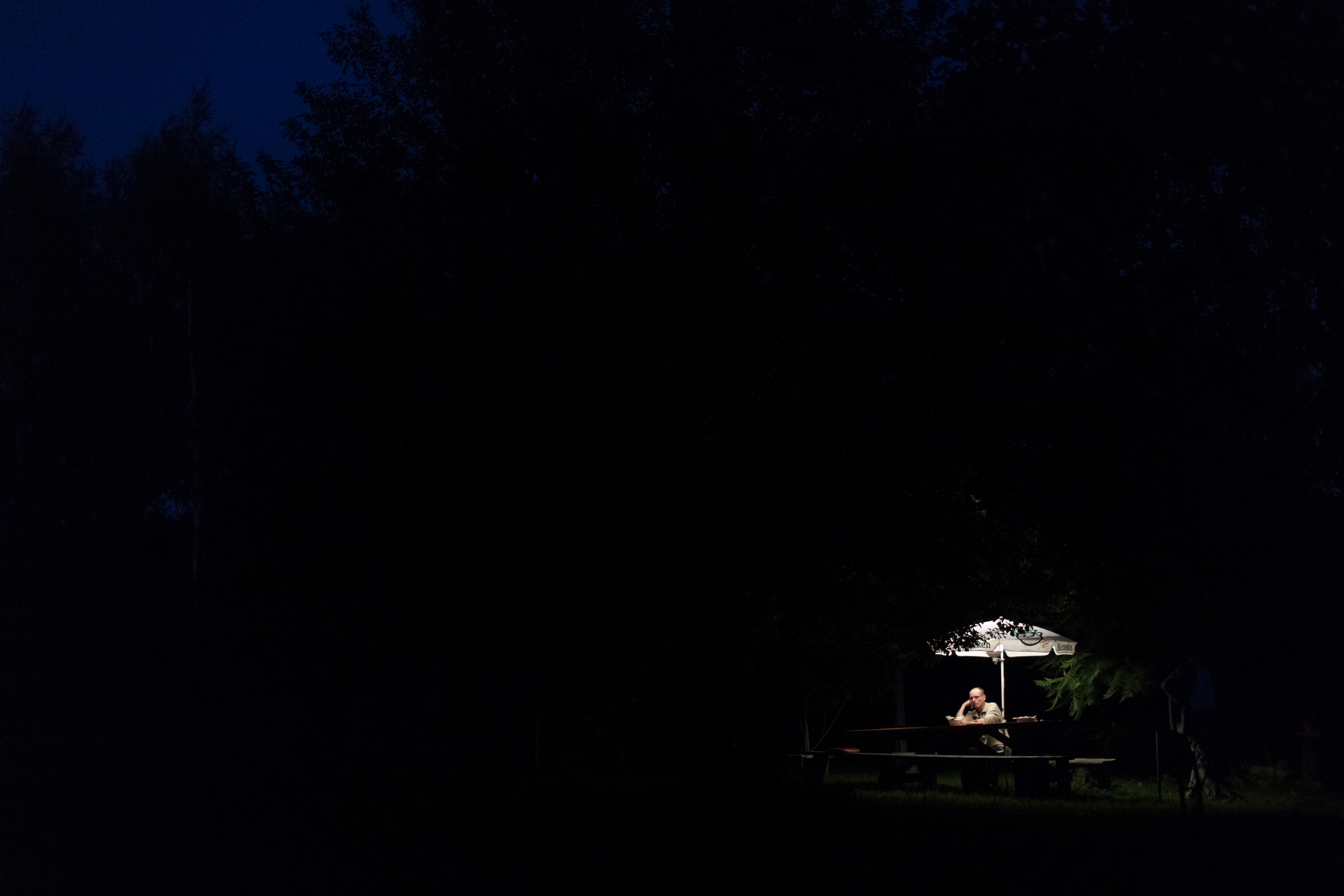 My father waits for dinner as my aunt and uncle prepare fire-grilled sausage and other meat.
My aunt has described my father as a sensitive artist who is truly gifted with his hands. Here, he replaces the front step to the house with one displaying a colored napkin under glass. "I also have one of a footprint made out of stones and my sister wants me to make one with a cat," said my father.
My grandfather adds brandy to my uncle's ice cream. "It always tastes better with brandy," said my grandfather.
After a morning of running errands and sightseeing, my grandfather eats ice cream while my father drinks a beer.
"After I exchange these bottles, we'll buy ice cream with the money," said my father.
"All I want to do right now is eat, put my feet up in bed, and watch a movie. I don't have the energy for anything else," said my father as he brought his dinner to his room.
After dinner, my grandfather drinks a beer made in the nearby city of Moletai. "I was talking with the owner and he said that they had to throw out 200 bottles because of a mistake in the recipe. They didn't want to sell it at a reduced rate. What a shame," said my grandfather.
In need of repairs, my father pushes his motorcycle up a hill. "I ride it to town when I have work. I did a lot of work on it," said my father. On a couple occasions, my father has showed me photos on his phone of cars and motorcycles that he admires.
Every Sunday evening, Teleloto is broadcasted and thousands, including my grandfather, mark lottery tickets.
"I haven't won anything yet. What would I do if I won? I don't know, I can only fantasize about it," said my grandfather.
My grandfather marks three lottery tickets as my uncle watches from the couch.